Each summer, students from SGPIA spread out across the world as part of the International Field Program (IFP) and Studio Programs! Students conduct independent research, contribute to the vital work of local non-profits, NGOs, and government agencies, and gain invaluable international experience. This summer, our students are living, working, and learning in Argentina, the Balkans, Colombia, Cuba, Ethiopia, and South Africa. The IFP and Studio Correspondents will be the eyes and ears in the field to help us tell the stories of the summer. Check back to learn about each of the field sites.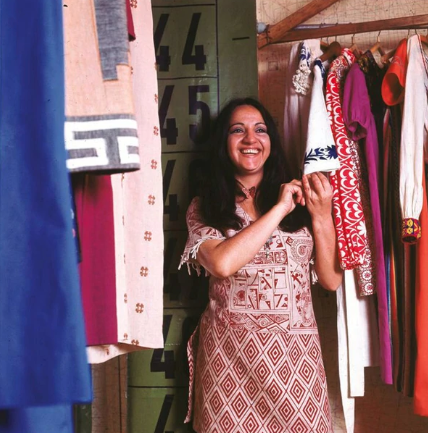 Mary Tapia (1934-2011), also known for being "the anthropologist of fashion", was born in the northeastern province of Tucuman, Argentina where many of her design inspirations came from. I initially took interest in learning more about Mary Tapia after I visited her permanent exhibition at the Museo de la Historia del Traje in Buenos Aires. As a cultural anthropologist, I have always had an interest in clothes and the ways in which people use them as a form of creating both an individual and collective identity.
Mary Tapia was well known for creating clothes with regional native textiles that inspired her to preserve the culture of those who have been historically neglected in Argentine society. Argentina has had a vast history of migration, primarily from Europe. However, Mary Tapia took upon her designs to celebrate and preserve the native culture from Argentina's indigenous communities from the northern provinces, as well as indigenous people from other areas that she visited in Latin America. In using these distinctly Latin textiles, her main goal was to decolonize Argentine cosmopolitan women, especially those in Buenos Aires – who tended to consume European fashion, like that of Coco Chanel, at the time. Most of her popular fashion lines were launched between the 1960s and 1970s, and her most famous line was presented in 1969 at the Instituto di Tella titled "Pachamama Pret-à-Porter" (Pachamama Ready-to-Wear).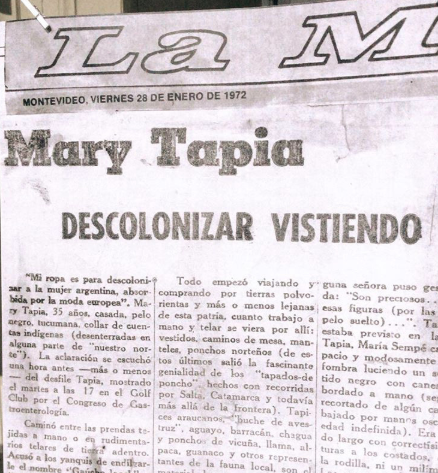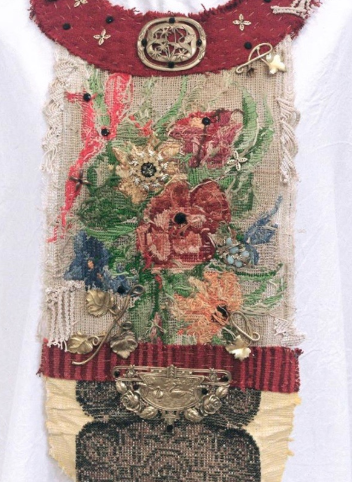 Mary Tapia created a wide range of clothes with durable materials, such as otavalo fabrics, wipes, and delicate embroidery, all of which were made by the hands of many indigenous women from Argentina, Paraguayan migrants, and other indigenous communities throughout Latin America. Mary Tapia's creations established a trend for people to love and appreciate what is local, including embracing the art and culture of those who have been historically marginalized in their native land. For Mary Tapia, her clothes symbolized something beyond more than just commodity or decoration, but it symbolized the preservation of Argentina's native culture and customs. In today's sustainable fashion market, fair-trade and cultural pieces occupy a larger space than they ever did before. Through clothes such as Mary Tapia's, the world is learning to appreciate the beautiful art and culture of communities that have been historically silenced.