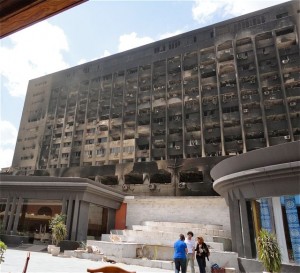 By Sarah El-Shaarawi – GPIA '13
When learning from the news media of events abroad, or even outside one's own community, it is hard to imagine that anything else is happening there.
Impact and scope are often hard to gauge, so it feels that the entire city, region, or country is completely engulfed in whatever the news media is reporting at that moment. And certainly, sometimes it is.
In the last few weeks, Egypt has reemerged as a focal point of mass media. The two-year anniversary of the "Day of Rage" brought renewed protests, renewed demands and more tragic deaths. But this isn't about these well-covered stories; instead, it is a series of observations made in Cairo in the month leading up to the most recent, highly publicized, unrest.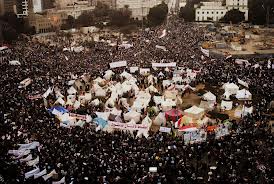 Egypt has not recovered from the perception that it is an unsafe, unstable place. Yet in many ways, the Egypt I observed just a few weeks ago is the same Egypt I visited three years ago, before the so-called Arab Awakening.
During the first week of January, I was staying in El Dokki, a downtown neighborhood close to Tahrir Square. Out with friends one evening, we decided to stop by the square. Still shut down, much to the dismay of Cairo residents who must suffer through the city's infamous traffic, Tahrir Square had become a tiny community, seemingly with its own economy and social order. White tents still covered the center; merchants were selling food; fires were alight to keep its inhabitants warm; and lively political debates drew small crowds. The similarities to Zuccotti Park, the main site of Occupy Wall Street, immediately struck me—but so did the differences. To one side, where the old campus of the American University in Cairo lies, graffiti coats the walls protecting the compound. The graffiti is stunning, artistic and powerful; symbols of fallen protestors, struggle, acceptance and unity.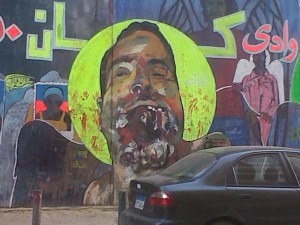 Like the charred remains of Hosni Mubarak's National Democratic Party (NDP) headquarters facing the Nile, the street art is a not-so-subtle symbol of what has been and what continues to go on.
But around these symbols, the city buzzes and people carry on with their lives. In the month of January, besides the odd metro disruption, road closure or occasional police checkpoint, Cairo carried on as usual. One difference, however, was striking: the obvious lack of tourists and the impact of this absence on the city.
On a trip to Khan al Khalili, a massive souk and famous destination in the neighborhood of Al-Hussein, the shopkeepers—selling scarves, silver, alabaster lanterns, hookah pipes, jewelry and other trinkets—were more insistent than ever in their sales pitches.
The network of small roads and alleyways that make up the market were nearly devoid of tourists. After several hours of wandering around, my friends and I sat down for tea and belila (a delicious dessert made with milk and wheat) at one of several cafés that line the main entrance. A parade of children and other merchants competed to show us their merchandise as we chatted and sipped our tea. They crowded us, insisting we purchase their goods, bargaining themselves lower and lower, until a café employee came over to shoo them away. A minute later they would return.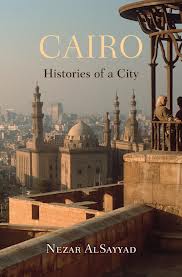 This scene was no different than the other times I had done exactly this in the last two decades, except for a new level of persistence. We were one of only three or four groups of foreigners sitting in these once-crammed cafés—there was no one else to sell to.
Egypt is hurting economically and its most important industry has become almost non-existent since the revolution began. Visiting Egypt these days may not seem as inviting as years past, but perception is often not reality.
To be frank, the amount of disbelief at my recounting the relative calm of my trip has been disheartening. The situation is not stable; this is true, but traveling to Egypt is not a serious safety risk for an informed and careful individual.
One evening I was driving with a local friend into Zamalek, an affluent downtown neighborhood on an island in the middle of the Nile. We were discussing economics, unrest and tourism as we passed the charred NDP headquarters. I asked her if she knew what would become of this building, as it, along with several other buildings evoking the Mubarak era, have been sitting as charcoal beacons for almost two years. I mentioned that these images were certainly not encouraging tourists to return. She replied, "That building is beautiful, it is a symbol of what we have accomplished and what we will refuse to stand for from now on. I hope it never disappears from the skyline." Perhaps my comment missed the mark. After all, as far as sight-seeing goes, these revolutionary symbols may be the new camel rides and pyramids.