Each summer, students from SGPIA spread out across the world as part of the International Field Program (IFP) and Studio Programs! Students conduct independent research, contribute to the vital work of local non-profits, NGOs, and government agencies, and gain invaluable international experience. This summer, our students are living, working, and learning in Argentina, the Balkans, Colombia, Cuba, Ethiopia, and South Africa. The IFP and Studio Correspondents will be the eyes and ears in the field to help us tell the stories of the summer. Check back to learn about each of the field sites.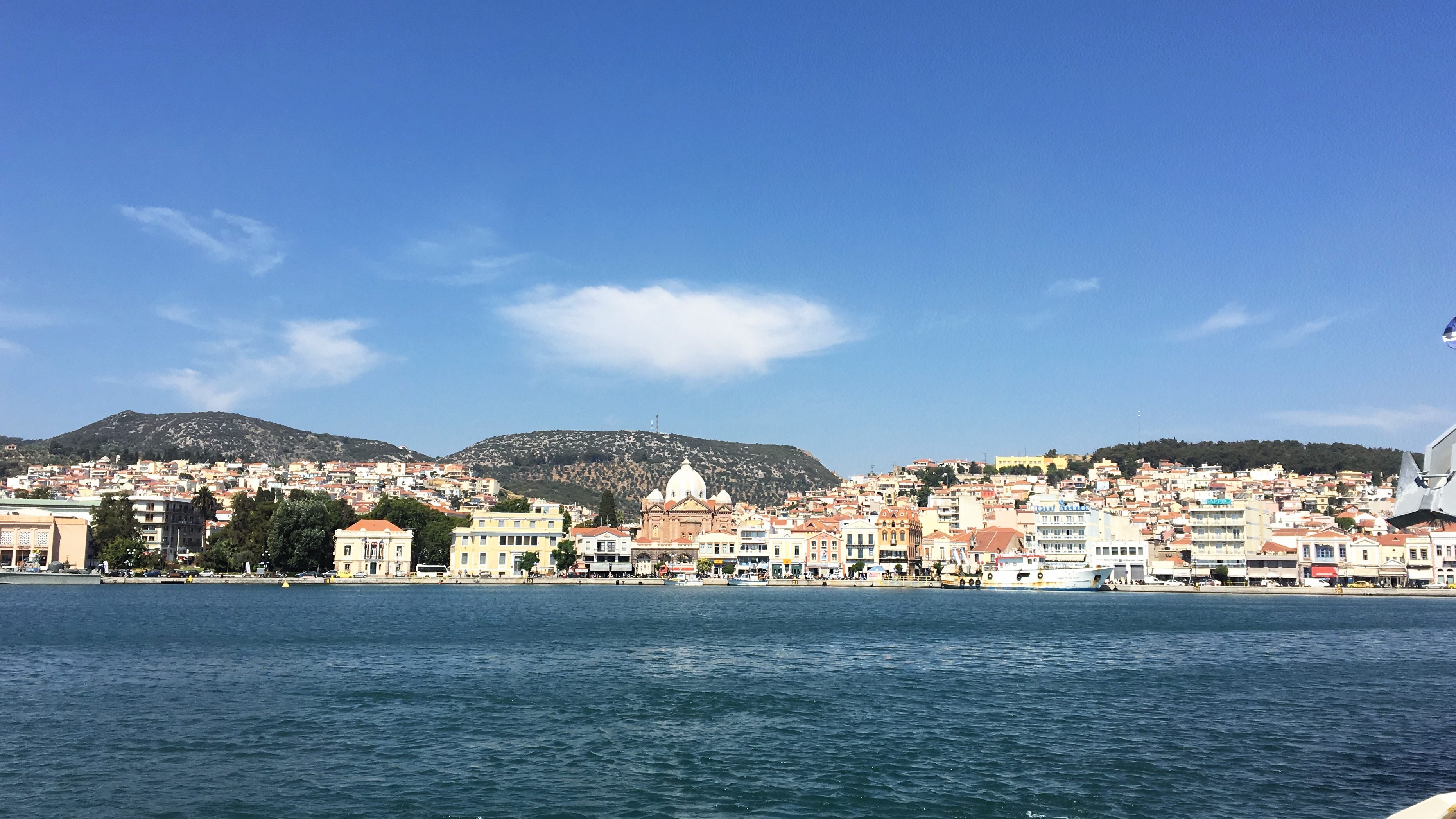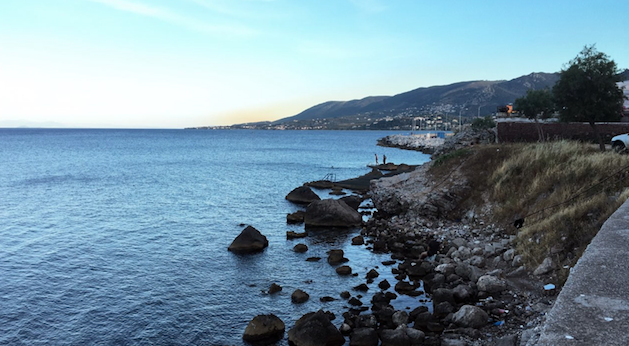 Hello and welcome to Lesvos, Greece! I am here for the month with 5 other students for the fieldwork portion of the Migration Studio. Building upon the work that IFP students have done for the past two summers in the Balkan region, we are here to work on projects relating to the migration flow in the Balkan region – specifically in Lesvos.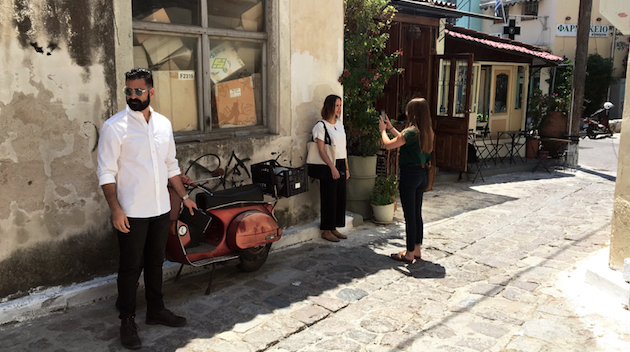 We have been here for less than a week, and have already learned a dizzying amount. In the spring, as part of the Migration Studio, we developed our research interests and worked on projects utilizing the data from previous summers, producing podcasts, transcribing interviews, and creating a multifaceted timeline of the migration "crisis". Now that we are here, we can begin to conduct our own research, meant to contribute to the multi-disciplinary portfolio of work produced by the Studio.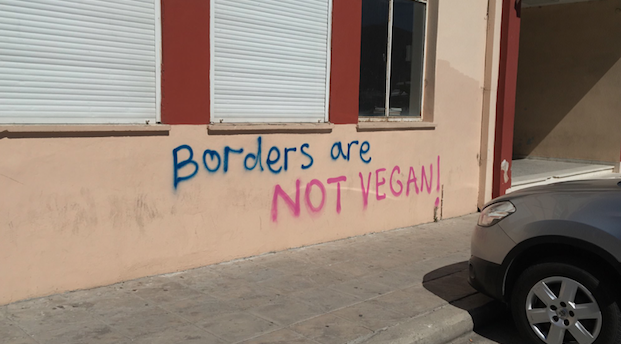 Our home base here in Lesvos is with a local lawyer named Emmanouil. Emmanouil has had an illustrious career working throughout Europe, with a long stint in Brussels (he tells me I look just like his roommate from this time – but I have yet to see a picture), before coming home to Lesvos. He has founded an NGO named Phoenix to work with refugees seeking asylum, appealing their asylum decisions, and the like. From the day we landed (seriously – we met him 2 hours off a 13 hour overnight ferry ride) to today, he has gone above and beyond to welcome us to the island, give us insight into his work, and help us develop our own projects. I'm working with a classmate on a project on the subject of security, and this morning he took us to the police station to submit a request for a meeting with a representative of the Greek police, before going back to the office and taking the whole group to Kara Tepe.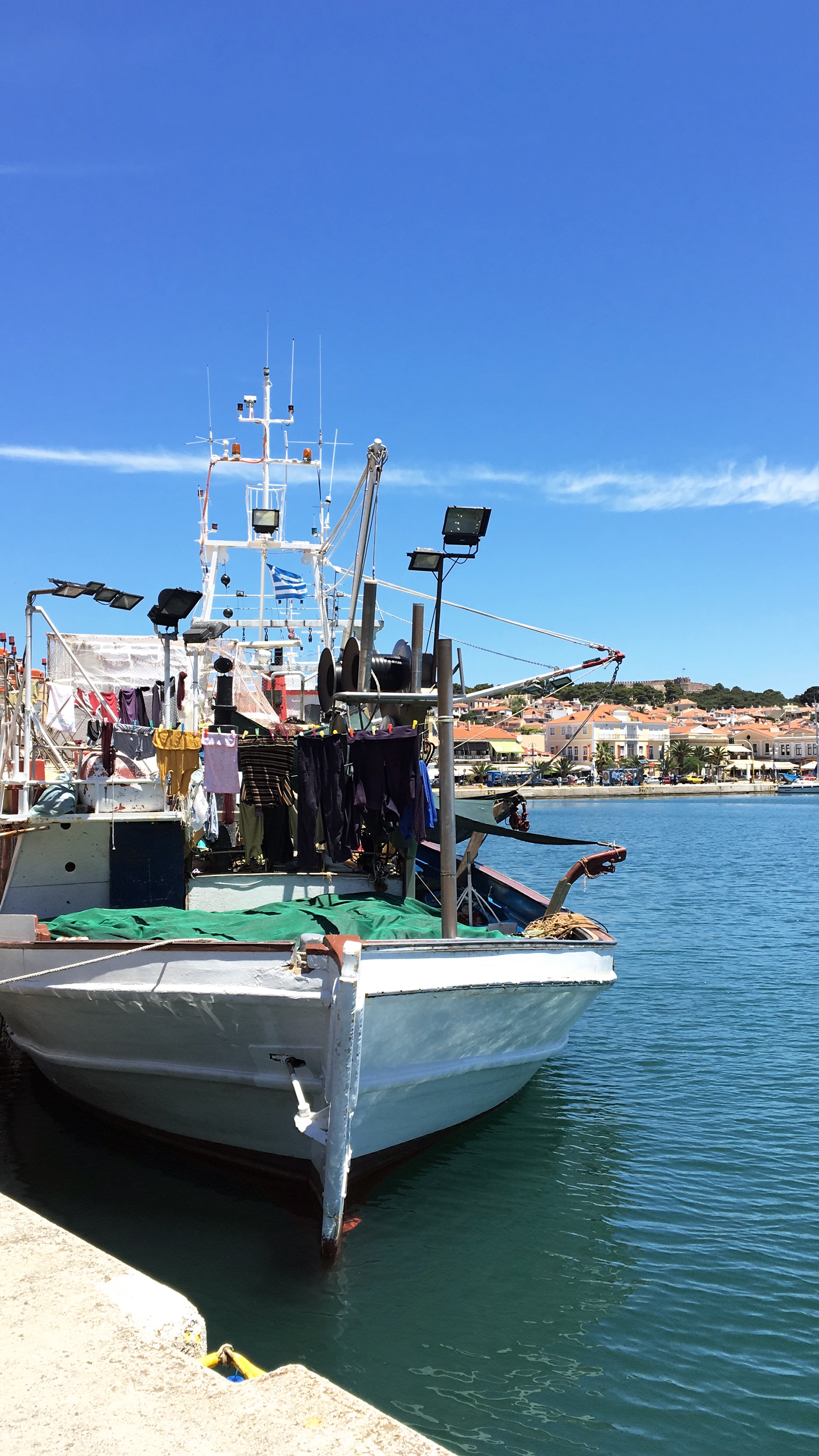 Kara Tepe is one of the two official places where refugees reside in Lesvos (who do not live on their own in apartments in the main city of Mytilini, that is). The manager, a man named Stavros, is a good friend of Emmanouil. Kara Tepe, which houses families, refers to itself as a hospitality center. The staff members we met there were very adamant that the camp be a welcoming, warm, and friendly place where the families (who reside there for an average of 2-4 months) can feel ownership of their space. The ISO boxes which house the different NGOs that operate here are brightly painted, families have food delivered to their homes rather than be forced to wait in long lines, there are community gardens throughout the space, and wooden fences are used to delineate space rather than wire fences. It apparently stands in stark contrast to Moria camp, the other facility in Lesvos.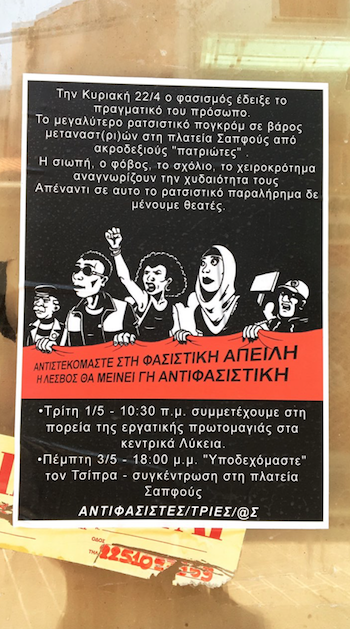 Our other contact here is Metin, a PhD student working with Greek NGO Praksis, on the issue of unaccompanied minors. "I came here to live in paradise, not knowing it would turn into a prison for some," he told us. He took us on a tour of the city, discussed his work with us, and gave us a brief history of the island. In the funny way that history has of repeating itself, Lesvos experienced waves of Turkish migration in the late 19th and early 20th century. Around 1923, the governments of Greece and Turkey engaged in population exchanges, but there remains a Turkish legacy on the island – after all, Turkey is merely miles away.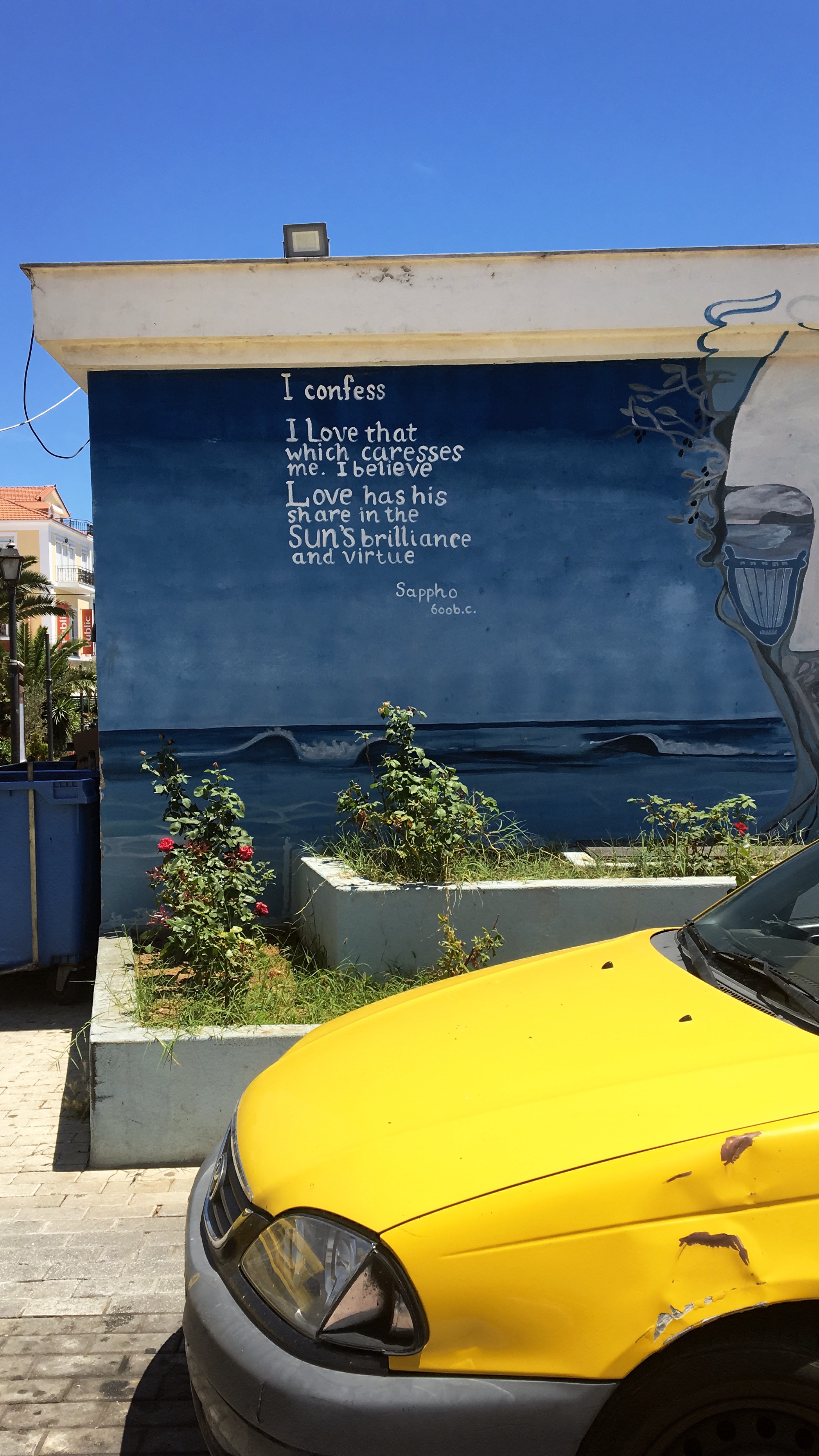 As Metin put it, Lesvos has became an international place very quickly. Not only are there migrants here from all over the world (Emmanouil ran down a quick list of cases he had worked on for individuals from over 8 countries), but volunteers as well. We have run into families from all over the world everywhere from local cafes to the local swimming pier. There is some dissonance about mentally marrying this sunny, friendly island with everything we know to have happened here. I'm looking forward to getting more of a feel for the place, speaking to more people of all nationalities to learn about their experiences, and seeing all of my classmates' projects develop.
Until next time – αντίο!