Annan: "It's Your Future" (But it's Bleak)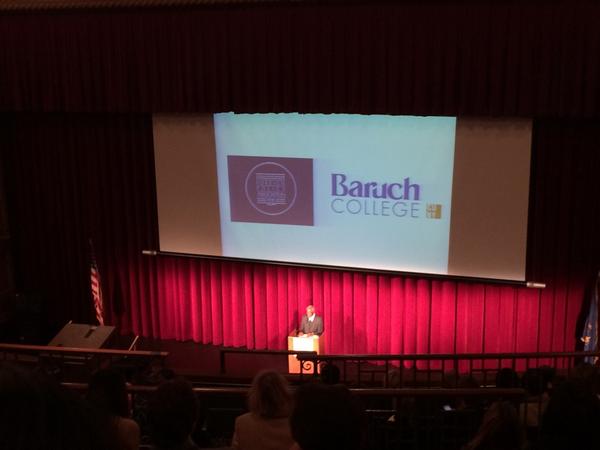 Speaking Thursday evening before a full auditorium at Baruch college, former UN Secretary General Kofi Annan painted a dismal picture of the future of international cooperation. "Instead of the new world order, we have growing disorder," said Annan. "The international architecture set up after World War II, which received a new lease on life in 1990, is proving unable to cope with the challenges of our time."
In his speech, Annan charted the course of his thirty-plus years career during which he has played a key role in driving forward a new era of liberal internationalism, only to see it disintegrate under the weight of globalization and ultra-nationalism.
.@FPA_ORG's "The New World's Disorder" lecture w @KofiAnnan –addressing challenges for UN in 21st century #FPAAnnanpic.twitter.com/F7d516xz5H

— Felipe Marín (@luisfemarin) October 23, 2014
Annan reflected back on the period at the end of the Cold War and the new hopes that surrounded a new era in international affairs.
President Bush captured the Zeitgeist well in his famous 1990 speech before Congress stating that:

"A new world order can emerge: A new era—freer from the threat of terror, stronger in the pursuit of justice and more secure in the quest for peace. An era in which the nations of the world, east and west, north and south, can prosper and live in harmony…A world quite different from the one we've known. A world where the rule of law supplants the rule of the jungle. A world in which nations recognize the shared responsibility for freedom and justice. A world where the strong respect the rights of the weak."

To recall those words is to measure the distance between the hopes we held then and the grim realities we face today.
As UN Secretary General, Annan played a role in this new era, leading critical interventions. Some of these, like the UN response to HIV/AIDS saved countless lives. Others, including the peacekeeping missions Bosnia and Rwanda were dismal failures. In large part as a result of these failures, the Responsibility to Protect doctrine was developed. Annan portrayed R2P as "a defining moment for the United Nations and the international community it represents." But, he continued, "we are not living up to that responsibility…and the people of Syria are paying the terrible price."
At one point, amid the doom and gloom of the speech, Annan called attention to the large contingent of international affairs students in attendance, including more than 70 from Columbia's SIPA. "It's your world" he said, and encouraged the crowd to go out and make a difference—this drew a large ovation.
During a lengthy Q&A, Annan deflected criticism leveled at the UN and its various organs, replying that the UN was the international community, and any UN shortcomings were international failures. While this may be true, this is also to some degree a cop out. The UN Secretariat has substantial autonomy, and the leadership of UN agencies should be held to account for recognized failures when they happen.
But despite immense challenges facing the global order—globalization, the 24-hour news cycle, new challenges to sovereignty—Annan offered a reminder that "the international system, composed of rules and institutions, does allow most states to settle most of their disputes peacefully, most of the time."
"With all its defects, with all the failures that we can check up against it, the UN still represents man's best-organized hope to substitute the conference table for the battlefield," said Annan. "Those are not the words of a former Secretary General, but those of a great American, who knew a thing or two about the battlefield: President Dwight D. Eisenhower."