As Ebola continues to ravage several W. African nations, here in the U.S., the discourse surrounding the outbreak remains polluted by rhetoric and misinformation. We watch and listen, uneasily at times, as experts and pundits weigh in on the implications of policy choices – should affected countries seal their borders to air traffic? – With regard to that issue, the consensus rightly remains "NO." As New York, New Jersey, and most recently, Illinois enact mandatory quarantine policies for health workers upon their return, experts worry that the reactive measures are likely to dissuade needed volunteers. The consequences of irrational and pervading fears have compounding effects on the fragile economies of Ebola-affected states. Any policy that limits the access of aid organizations, volunteers, food, and medical supplies, would be detrimental to those in need.
Here in the U.S., measures are being taken to protect against the risk of even isolated cases of Ebola. Airports have instituted regular screening procedures for flights from Liberia, Sierra Leone and Guinea, and the CDC has amassed a team of experts, capable of deployment to any U.S. hospital within hours of a confirmed case. The current, lone Ebola patient in New York City, Dr. Craig Spencer, is receiving treatment in a specially prepared wing of Bellevue Hospital, and on Friday President Obama publicly hugged recovered Ebola patient, nurse Nina Pham, trumping a stigma that has spread exponentially farther than the disease itself. In the face of hyperbole and growing discrimination that have featured in the national conversation on Ebola, feelings of inefficacy on our part are a natural response — What can I, skimming a blogpost on my laptop four thousand miles outside of Monrovia, do?
Last Saturday, I attended an #AfricaOpenData "data jam," here in New York City, and came away with the hopeful insight that technology can be a powerful channel for people across the globe to deliver meaningful and direct assistance in the effort to contain Ebola. "Data jams" are representational of a growing movement in international development toward open data. The idea is that when raw, quantifiable information is collected on a large scale and made accessible to everyone, people can use it for good. At data jams like the one I attended, people with a range of technical skills and topically related interests meet up to learn from one another, engage in dialogue, and "hack" solutions to problems. By my count, roughly seventy people turned out at the Africa Open Data jam, led by Jeanne Holm, Chief Knowledge Architect at NASA along with Richard Robbins, founder of Upper West Strategies, and organized by Steve Adler of IBM. Other partners included a representative from the Sierra Leone group Campaign for Good Governance.
Following a morning of Skype sessions by people familiar with Ebola and the current situation in affected areas, we made introductions, and organized into small groups. Some worked to collect and organize datasets, while others brainstormed apps that could deliver updated information or track migration patterns via cellphone signals. Still others moved between groups to get a sense of the overall picture and offer their inputs where they could. Since the 'jam, the conversation has continued in online forums, and plans are underway to keep up the momentum. There will be another similar event held on November 7 at NYU that is open to participation of the broader NYC community, and this brings me back to my original point.
Data and tech are not circles that I travel in, but as a member of the tech community recently tweeted, "anyone capable of using a web browser can help". The group I participated in, along with some other New School students and faculty, worked with an online platform called Open Street Map (OSM), a crowd-sourced, "open" answer to Google Maps. What that means in practice is, OSM procures satellite imagery, and makes it available so that anyone can create an account (it takes a few seconds), then zoom into an area in Open Street Maps, and use the cursor to trace the outlines of buildings, roads, and other obvious features. There are options to label features such as restaurants and businesses if you are familiar with the area and can accurately identify them.
About now, you may be wondering how this is related to Ebola in W. Africa. Humanitarian organizations on the ground in Ebola-stricken areas rely on geographic information provided by a group called Humanitarian Open Street Map (HOTOSM), since many affected areas have not previously been adequately mapped. That organization crowd-sources its data collection through the OSM platform from people like you and me. When you create an OSM account, you can open the HOTOSM "tasking manager" (found here,) which will bring up a map of the world with highlighted zones, descriptions of crises, and specific requests for information from organizations such as Medecins Sans Frontieres and the American Red Cross, in real time.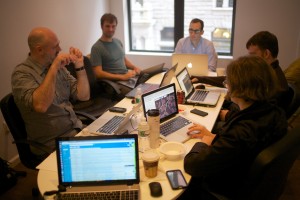 In a village on the outskirts of Monrovia, for example, agencies might identify an urgent need for roads to be mapped in order to find a best route through the center. The agencies transmit their request to the HOTOSM team, which uploads it to the tasking manager where members of the online community can simply zoom into the satellite imagery, and begin tracing from locations around the world. Other users validate those changes, and the information becomes available to the organization. Here you can see the incredible impact that volunteer mappers have had so far in mapping the Ebola crisis.
The key is that the value of these inputs doesn't stop there. Organizations use this information to perform various spatial data-analyses. For instance, by measuring the distance between the centroids of polygons (the middles of the buildings that we trace), data scientists might be able to model the potential for disease transmission. At a time when Ebola is causing reactionary stigmatization here in the U.S., it is good to know that we can make an impact in containing Ebola where it poses a real threat to peoples' lives and livelihoods, 4,000 miles away.