The Black Lives Matter movement is working tirelessly to end systemic racism in the US, but it appears to have turned a blind eye to the universality of Black oppression.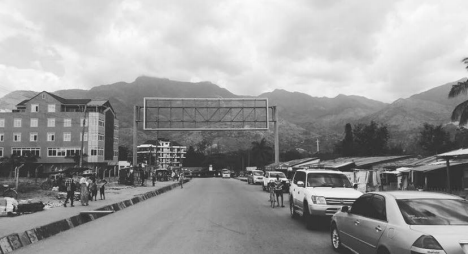 After a year of protests which have swept the American nation into yet another racial upheaval reminiscent of the civil rights era, the country is being beseeched to reflect for the umpteenth time on the continued systemic racism perpetrated against African-Americans. The unlawful death of George Floyd by a white policeman sent a sizable viral shockwave across the world and yet we all know the problem of police brutality against African-Americans in the US is hardly a new matter.
Black Lives Matter (BLM) was born in 2013 to respond to the brutal racial injustices that African-Americans regularly faced. What began as a modest movement to fight to end police brutality became a global organisation with 38 established
communities working together for racial equality across the US, UK, and Canada. Their mission, according to their website, is to eradicate white supremacy and build local power to intervene in violence inflicted on Black communities.
Consider the aftermath of George Floyd's untimely death. Besides demanding institutional reform, BLM managed to trigger the whole world to reexamine its racial follies. From Asia to Africa, Black and non-Black allies appear to have entered a period of sociocultural introspection and personal reflection. Statues of old relics from America's abysmal racial history are on their way to the bottom of the ocean; there are nation-wide calls to defund police departments in favour of strengthening communities; and white supremacy is being boisterously challenged. The message has been loud and clear: no justice, no peace. A hugely commendable achievement no doubt as it gives real hope to ending systemic racism, but is it enough to say that a win for BLM in the US is a win for Black lives everywhere? Or that it even represents all Black lives?
Consider this. BLM has yet to make its way onto the streets of most African cities, where its message is needed urgently and has been for decades. The continent has an appalling record of police brutality, human rights violations often sanctioned by the state, and persecution aimed almost exclusively at marginalised Black civilian populations. Neither domestic social institutions, nor the international community have been able to intervene substantially when confronting larger issues of human rights violations of millions of Africans. Legal and political obstacles regularly hinder interference in domestic matters. But BLM cannot permit inaction for Black African lives while taking to the streets by the hundreds of thousands to rally global support, including that of the African Union, for African-American justice.
When I think of George Floyd, Trayvon Martin, or Eric Garner, I immediately think of Yassin Hussein Moyo, a 13-year-old Kenyan boy from Nairobi's Eastlands area, who was killed when police fired live ammunition at him during a pandemic curfew as he stood on the balcony of his home late at night. According to Human Rights Watch, an investigation into Yassin's death was initiated by the Independent Policing Oversight Authority, a civilian Kenyan organisation, but many such promises have been made in the past with little success in bringing those responsible to face justice.
Furthermore, during Kenya's pandemic curfew, at least six people died from police violence in the first 10 days of lockdown orders. Hundreds more sustained life-threatening injuries. Neither the Kenyan government, nor the African Union, nor the International Criminal Court ofJustice (ICJ), nor BLM has made any concerted efforts to hold Kenyan authorities accountable for these crimes.
You have to ask what 'Black Lives Matter' signifies for millions of families like Yassins' who lack the privilege to garner support to publicly mourn the loss of an innocent child killed by the state, let alone mobilise the whole world to demand justice for such crimes against humanity.
In 2018, the Tanzanian government issued a directive to the civilian population to report anyone belonging to the LGBT+ community, going as far as sanctioning physical examinations of suspected individuals, and criminalising the provision of safe space to members of the LGBT+ community. This is yet another example of state-aggression and coercive power against civilians that routinely goes unchallenged, except by international human rights organisations, which often face major obstacles in intervening in these supposedly domestic, cultural and/or religious public affairs, some of which are fundamental violations of basic human rights and human dignity.
As an organisation committed to fighting for Black lives, is it not compulsory for BLM to be at the forefront representing all people of African descent? Must we be limited to gathering forces only when Black people in the West, or specifically, in America face injustices? By neglecting global injustices against Black lives everywhere, we are making the mistake of performing exclusive activism, leaving out millions of lives and thereby compromising our fundamental message for equality.
The global persecution of Black lives does not entail systemic racism alone. As we continue to fight for racial equality in the global north, we must also fiercely demand equal rights for all members of the Black community living around the rest of the world. We must demand LGBT+ rights; education rights; women's rights; children's rights; an end to forced child marriages, child labour, female genital mutilation, and child soldiers. In essence, we must reject the continued oppression and exploitation of Black human beings that has occurred for centuries around the world. As Dr. King famously said: injustice anywhere is a threat to justice everywhere. We must never forget that.
Sameer Jamal is an MA Candidate in International Affairs at GPIA, and a 2021 Zolbert-IRC research fellow for Diversity, Equality, and Inclusion at the International Rescue Committee. Sameer wrote this op-ed in July 2020, as part of GPIA's UN Summer Study.