Each summer, students from SGPIA spread out across the world as part of the International Field Program (IFP) and Studio Programs! Students conduct independent research, contribute to the vital work of local non-profits, NGOs, and government agencies, and gain invaluable international experience. This summer, our students are living, working, and learning in Argentina, the Balkans, Colombia, Cuba, Ethiopia, and South Africa. The IFP and Studio Correspondents will be the eyes and ears in the field to help us tell the stories of the summer. Check back to learn about each of the field sites.
A month ago today, I went out to Fabrica del Arte (FAC), an old oil factory refurbished into one of Havana's most visited art gallery and night club duo. The brainchild of musician X Alfonso, the space transforms itself from Thursday to Sunday nights into a haven for young people looking for a selection of cheap drinks and a fun time—diviertete y a gasta poco! as they say in Cuba. The Factory has two dance floors, live music, ice cream, an outdoor patio, and a changing selection of visual art make up the space while tourists and Cubans alike make up the bathroom lines.
In the smaller dance room occupied by a curation of old hip hop and today's hits, my gaze immediately turned to three men dancing, in-sync, to every beat of every song. They dominated the spotlight as curious spectators began to circle around them and project sounds of encouragement. As the song continued to play and the group received more attention, it seems as if a surge of energy struck the dance floor once other dancers in the room began to gather. A battle quickly ensued as individuals gravitated towards the growing circle and showcased different dance styles from popping to b-boy to krump. The main dancer in the original trio was especially charismatic in his flow, and me, two drinks in, tried to mimic with little to no accuracy. Little did I know that my attempts were futile in the presence of whom I would later discover to be one of Cuba's best krumpers.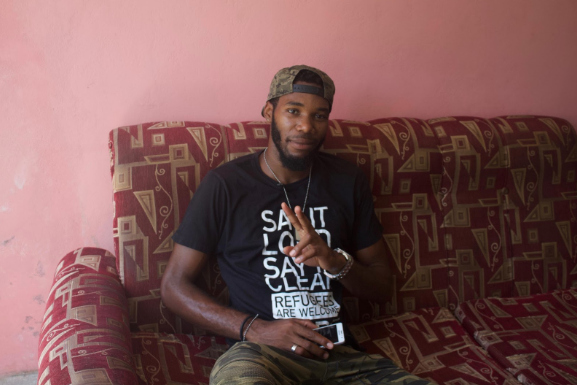 Meet Adan Montalvo Martinez. Martinez, who goes by Adam, is 23 years old and lives in Playa by the playa with his mother and younger brother while his father works in Guyana. In the mornings, he paints houses—the house he currently lives in is a nice turquoise and pale pink to his mom's delight—and from 2-6pm most days, he leads dance practice with his friends and members from his dance company, Heart, in Cuba. He's been dancing since he was young, but has been krumping since he was around 11 years old. In 2016, 2017, and 2018, he won best in Cuba for krump during a competition in Berlin, Germany.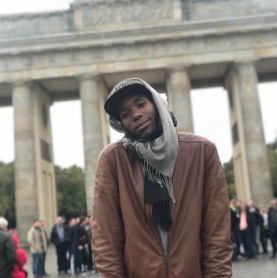 Extremely sharp and expressive in its form, krump was birthed in the early 2000s by Ceasare "Tight Eyez" Willis and Jo'Artis "Big Mijo" Ratti, two dancers from South Central Los Angeles. The street dance is characterized by strong stomps, high-energy swings, powerful chest pops, and rapid jabs. These exaggerated movements often hark back to forms of African tribal dance and ritual dances from Cuba and Haiti. Often, krumping is improvised to hip hop music during sessions and battles.
Judges for street dance battles are usually well-respected in their form having contributed to the dance scene and/or competing in and winning previous battles. Typically, there are an odd number of judges to avoid ties, and I was fortunate to be invited by Adam to a competition where he was a judge in the category for krump.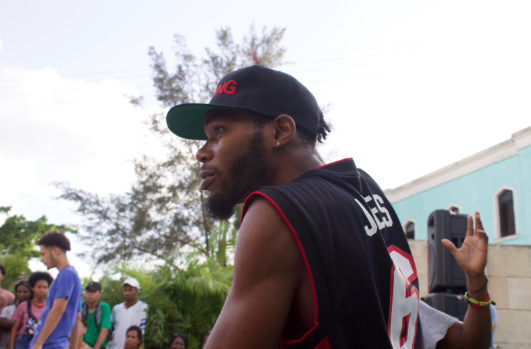 Two dancers stand face to face as a water bottle is spun to determine who starts the first round. Usually, the dancers go back and forth to the same beat for two rounds although extra rounds are sometimes called for if a tie is in place.
The MC will count down—tres, dos, uno—to signal the end of each participant's time, and at the end of the battle, the judges will individually point to their winner who will advance further into the competition until there are two dancers left for each style of dance.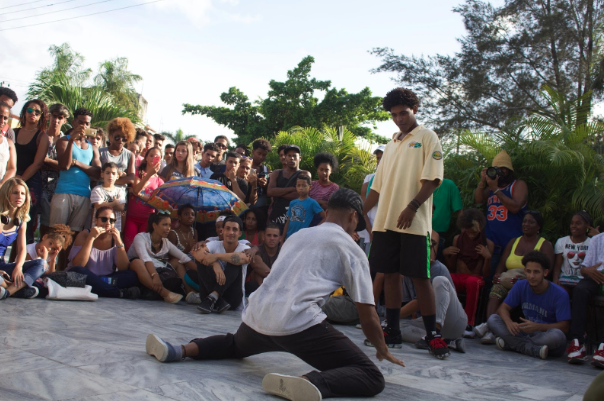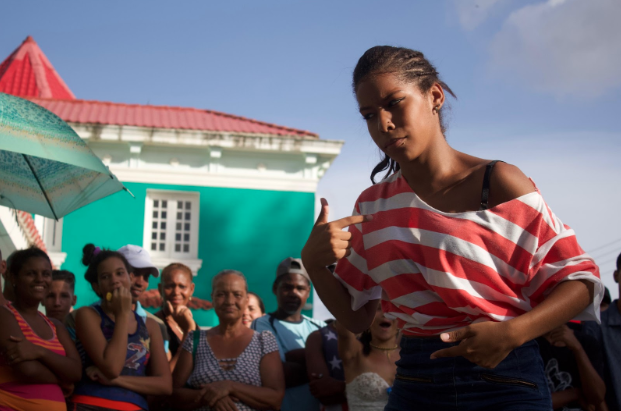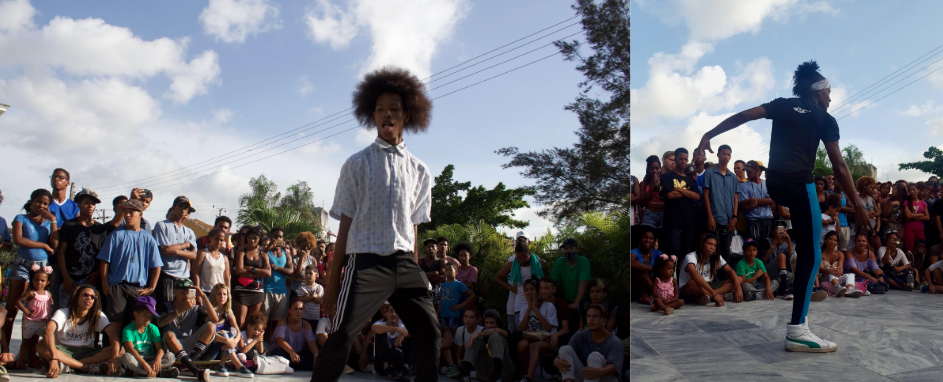 At this point, a final battle takes place where an overall winner is chosen. For boasting purposes, a placard is given to those who win the competition.
Amidst the frenzy and popularity of Cuban salsa and rumba, other forms of dance continue to play an integral part in fostering community between the differing barrios of Havana. The underground networks of Cuban rap, dance, skating, and art are all intertwined—a rapper will also b-boy and know someone who skates and graffitis who will know someone who raps and has tattoos.
Just as FAC is gaining recognition as a space for cultural exchange, the streets of Cuba are gaining traction for both younger and older generations as a meeting grounds for free expression. In a conversation with Adam, he shared his grievances over the lack of physical place for krump in Cuba but is hopeful of its growth and acceptance:
"Krump is the best part of my life. You can express anger, love—many things. You need to take everything in your life and put it in the same place, and the name of this place is krump. I love my dance. You are the krumper. This movement is feeling. This movement is history."
He shared with me his dreams of traveling the world to learn from the best krumpers in the world so that he can return to Cuba to teach his own community. It seems as if he's on the right track; this coming August, he and his brother, along with three other dancers from his company, will be moving to China for two years, traveling and dancing and learning.