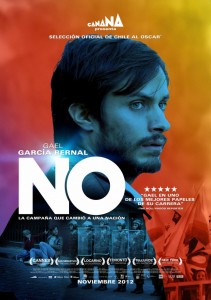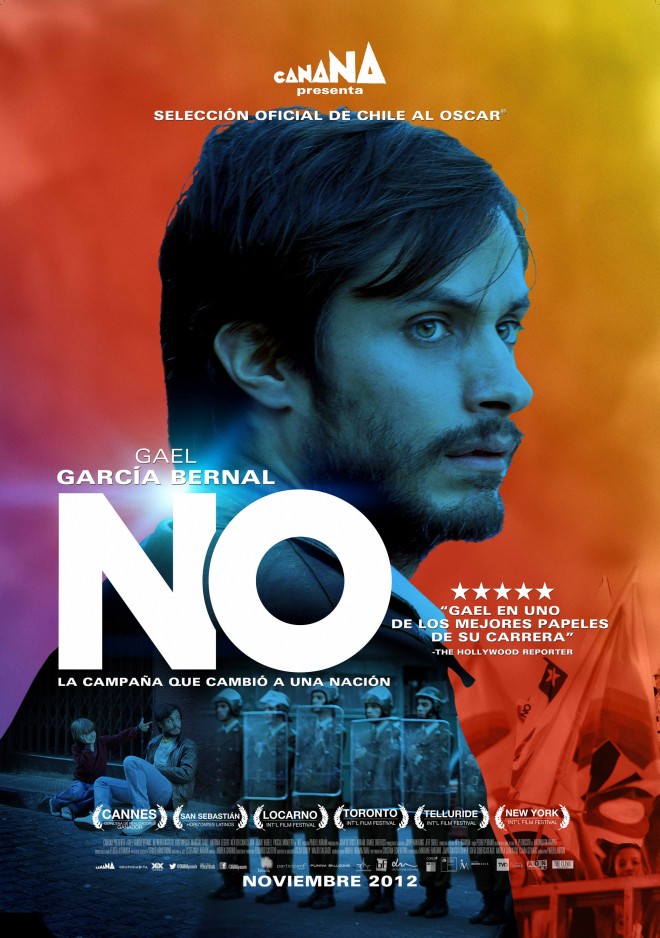 The movie No was recently released in selected US cities and marks the first Chilean film to ever be nominated for an Oscar. Up for Best Foreign Film, No is a fictional story based on the real-life 1988 media campaign that encouraged Chileans to vote against then dictator, Augusto Pinochet.
In 1973, backed by the CIA, General Augusto Pinochet overthrew President Salvador Allende. In the aftermath of the coup d'état, Pinochet introduced Chile to neo-liberal policies, but international pressure to democratize—due to human rights violations incurred under his rule—began to tear at his legitimacy.
As this pressure mounted, Pinochet announced a referendum in 1988 allowing Chileans to vote whether or not to maintain his power for eight more years.
Here is where No begins. The protagonist, played by Mexican actor Gael García Bernal, is René Saavedra. After being exiled to Mexico because of his father's left-wing politics, René lives with his son in Santiago and works on commercials for sodas and telenovelas. Conservative businessman Mr. Guzman runs the ad agency where René works. Their friendly business relationship becomes estranged after René is approached by the No campaign for advice. He struggles with the decision to help, but slowly and surely becomes more involved. Later on, the two men go head-to-head on opposing political campaigns – demonstrating how politics can divide people personally, but not necessarily in their day-to-day life or in this case, work life.
No portrays a paralyzed country on the brink of change, but also comments on the early stages of the power of media.  René, who is not heavily involved in politics, is interested in overseeing a good, successful ad campaign. One not based on Chile's tumultuous past, but Chile's future – a major attribute for the campaign's overall success. With positive messages much like that of Coca-Cola, René sells happiness to the Chilean people with a catchy jingle: La allegria ya viene (joy is coming), and images of people dancing and singing.
Watch the original campaign:
Director Pablo Larraín also gives viewers an authentic feel for the time by filming with u-matic video using cameras from the 1980s. Providing an accurate look, the film effortlessly weaves in archival footage and cameos from the musicians, actors, and activists featured in the media campaign ads of the time. As No transports the viewer back, it at times feels more like a documentary than a fictional film.
Yet, major opponents of the film are unexpectedly from the left. A major contention against the filmmaker is his oversimplification of the campaign. In a recent New York Times article, Genaro Arriagada a member from the actual No campaign, revealed his disapproval,
"The film is a gross oversimplification that has nothing to do with reality. The idea that, after 15 years of dictatorship in a politically sophisticated country with strong union and student movements, solid political parties and an active human rights movement, all of a sudden this Mexican advertising guy arrives on his skateboard and says, 'Gentlemen, this is what you have to do,' that is a caricature."
Arriagada makes a valid point, particularly since the film neglected to touch upon the massive efforts made by grassroots organizations to register voters. For Larraín, he argues that he is an artist and not an official historian. In fact, the film is based on a play, The Plebiscite, written by Antonio Skármeta. Regardless of opinions, the film portrays a time where all eyes were on Chile as it transitioned back to democracy after fifteen years of military rule. The No campaign won, not solely because of a leftist movement or a media campaign, but because the majority of people were ready to move on. After all, Chile had had the longest history of democracy prior to 1973 than any other Latin American country—a true testament to its political will.