In this op-ed, Lydia Caldana reflects upon the unique burdens that Gen Z faces as our climate crisis intersects with reckless socio-political and economic practices of previous generations.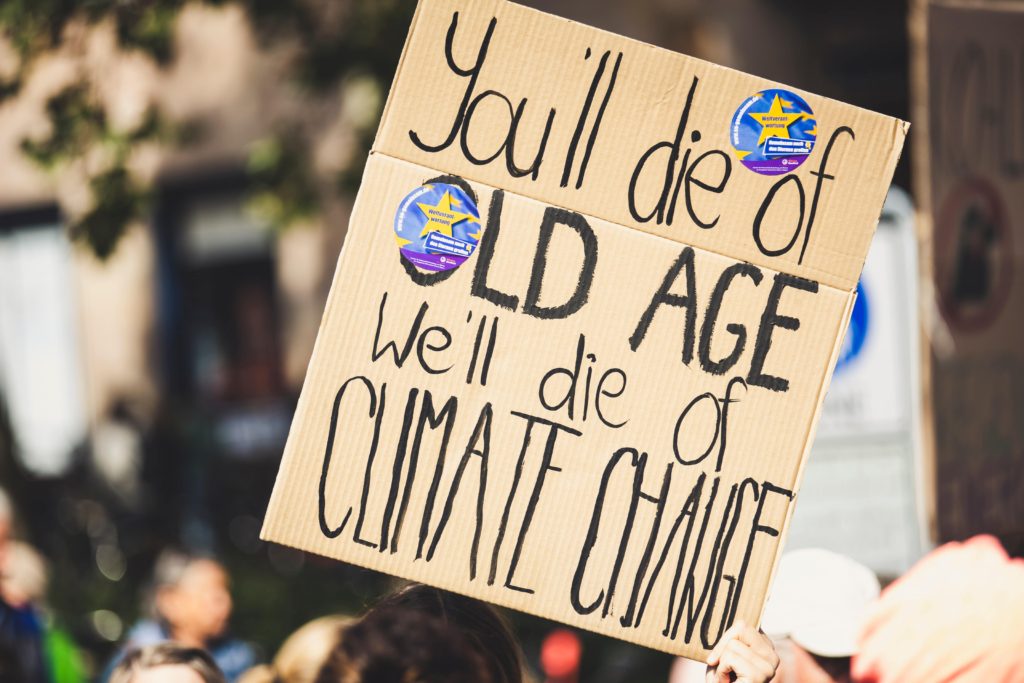 If the classic comic book Spider-Man was right in saying "with great power comes great responsibility", Generation Z's digital savviness is definitely outweighed by its climate action expectations. As a white Millennial woman who works with global clients across private and public sectors, I noticed a shift in how people are approaching the next group of people to take over: Generation Z. Long gone are the days in which Millennials were going to revolutionize the world with their big ideas and optimism. Now it's time for people born after 1995 to identify challenges and create solutions for the world's problems. However, can 20-year olds really bear the weight of all previous generations' environmental mistakes?
Many reports that study this generation across the world call them the "True Generation", "The young and the restless", and even "Celebrity Networkers". The digital-savviness of this group goes beyond their tweets and posts: Generation Z's brains are wired differently due to exposure to digital gadgets at early stages in life. However, the online universe is helping them bridge geographical and social gaps, create bonds with other cultures and tolerate differences, which adds to the fact that they are the most ethnically diverse generation. Generation Z is proving that the Internet can be a relevant tool to identify issues globally, and help organize local action.
A recent research from Amnesty International, 'Future of Humanity', surveyed over 10,000 18 to 25-year olds across 22 countries and revealed that 41% of respondents cited global warming as the most important issue that the world is facing. The climate strikes of 2019 show the importante the topic has for all, but this number shows how pressing saving the planet is for young people and their future.
During the same research, a solution pointed out by the respondents is the protection of human rights as fundamental (73%), even if it might have a negative impact on the economy (60%). They went even further to suggest that governments should take the citizens' wellbeing more seriously than economic growth (63%). This is a radical approach to politics, the economy and human rights. Perhaps due to their fast-paced synapses and hypercognition, the two decades they have been living on Earth were enough to understand the emergency we are living in, and how inevitable it is to act accordingly.
Generation Z is also radical when placing accountability and planning for action. 73% of respondents said governments should take the biggest share of responsibility for ensuring human rights are sustained, rather than individuals (15%), businesses (6%) and charities (4%). While Millennials' frustration with governments and institutions drove them towards the private sector and a consequential boom of entrepreneurship and startups, Generation Z understands macro issues as a collective responsibility that cannot be placed in the hands of individuals and businesses. At a local level, social media and social circles are ways of exchanging information, listening to opinions and advocating for causes. Nevertheless, for a national or a global reach, federal efforts and cooperation are needed in order to transform decades of misuse of natural resources into climate-positive actions.
The complex context in which Gen Z finds itself puts them now in another stereotypical prediction: that of the next Lost Generation. Not only is Generation Z threatened by an environmental insatiable future, they were also born amidst the Great Recession and are now experiencing a global pandemic that is changing how they learn, what they buy, who they interact with and their perspectives for the future. It is not surprising to hear that, even before COVID-19, 70% of the teenagers in the US had major problems with anxiety and depression.  
Still, even being extremely informed, aware, anxious and locally-engaged with climate change, that doesn't necessarily convert into political power. The voter turnout rate for 18- to 24-year olds in the USA in 2016 was 43%, compared with 71% for those 65 or older. Generation Z is also projected to make up 10% of the voters in 2020, up from 4% in 2016. With all the advances they push for in their digital and local spheres of influence, achieving political representation and helping pass laws that create the world they believe in is crucial, and yet that doesn't seem to be enough reason to get up and go vote.
Generation Z is a young generation with grown-up problems. No matter how mature they seem to be, climate change is a bigger issue that involves centuries of irresponsible use of natural resources, industrial revolutions and aggressive capitalist systems. The issue requires efforts from all sides towards common goals and will only be properly approached by distributing responsibility and accountability between public and private sectors as well as operating at international, national and local levels. While it is right to hope for younger generations to learn from the mistakes of past generations, who have the experience and the power to create change, immediate action is necessary.
---
Lydia Caldana is a Brazilian-born and NYC-based foresight strategist and cultural researcher pursuing an MA at NSSR (Liberal Studies module). She holds The New School's Gender and Sexuality certificate, is a member of The SexTech Lab, and is minoring in Global Urban Futures. Lydia works as a brand consultant by identifying macro shifts in society and behavior and translates those into business opportunities fors clients like UN-Habitat, Google, Spotify, Target, Nike, Instagram, etc. Lydia wrote this op-ed in July 2020, as part of GPIA's UN Summer Study.