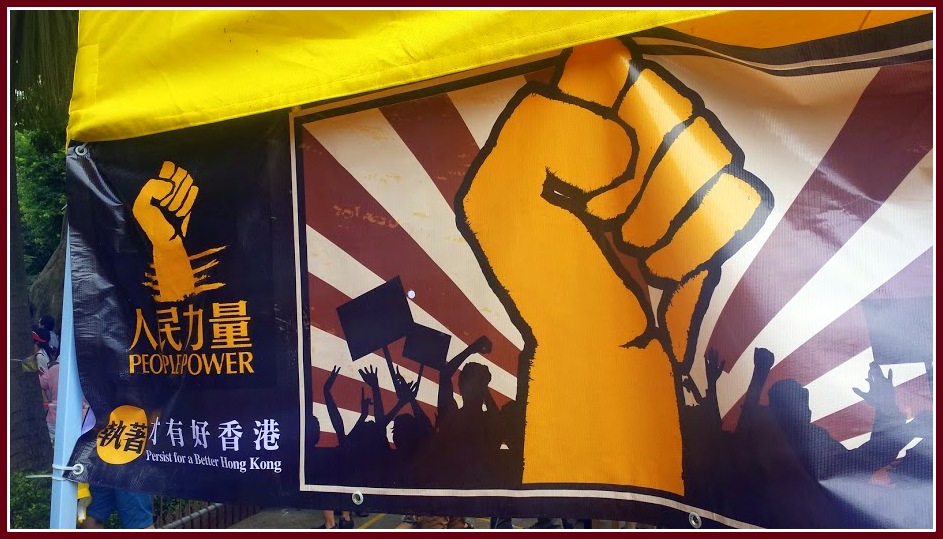 During two months in Hong Kong this summer, I marched in solidarity with demonstrators at two historic protests: the 25th Anniversary of Tiananmen Square on June 4th and the annual July 1st Protest Rally March. Protesters by the thousands gathered in Victoria Park to take part in candlelight vigils, staged performances and peaceful singing en masse.
Student activists who had died in 1989 advocating for democracy in Beijing's Tiananmen Square were memorialized. On July 1st, I along with other New School students, in Hong Kong as part of the International Field Program,conducted video interviews with protesters asking, "If you could break the rules, what would you do?" The premise of the exercise, as explained by our faculty adviser, was to get protesters and spectators to reevaluate the nature of rules -in general- and question aspects about the concept of "rules" that are supposed to work in our favor. There was no context nor was there a right or wrong answer to the question we posed. Many of the protesters made mention of the upcoming 2017 Chief Executive election and said that if the promise of democracy is not followed through during that time, they would break the rules in favor of universal suffrage. Now, on the eve of China's National Day on October 1, the largest mass protest in recent memory is taking place.
Beyond the annual June 4th and July 1st rallies, it was common to see sporadic marches throughout the streets of the island given Hong Kong's spirit of protest. This culture stands in stark contrast to the silence that befalls much of mainland China regarding the freedom to demonstrate and speak out against the government. Passing regularly through Central, the main business district of Hong Kong on the north shore of Victoria Harbour, it was inevitable to cross paths with the encampment of peaceful organizers and activists who made up Occupy Central, a civil disobedience movement performing sit-ins. Formerly known as Occupy Central with Love and Peace (OCLP), the movement was established in 2013 with plans to implement formal protests beginning in late 2014. OCLP's main goal is universal suffrage for the 2017 Chief Executive election and 2020 Legislative Council Elections in fulfillment of the promise of democracy made to Hong Kong when it returned to China following 156 years of British control. A major aim of OCLP is to demand that elections be carried out in accordance with "international standards."
In 1997 Hong Kong returned to the People's Republic of China becoming a Special Administrative Region (SAR) with political and economic freedom. Known as "one country, two systems," the freedom that Hong Kong exercises has been constantly in question, given the expiration date of the system in 2047. (What will happen to the political system in Hong Kong post-2047 has yet to be indicated.) As the election of 2017 approaches, it was recently announced that the elected official would be approved by a Beijing-loyal committee, ruling out any chance of a truly democratic election. Beijing claims that selecting the nominees for the election through a committee is in the interest of long-term prosperity and the stability of sovereignty, security and development.
In the days ahead of the official protests set to coincide with Chinese National Day on October 1st, demonstrators of the student-led movement began to mobilize, surrounding Hong Kong's Central Government Complex with plans to shut down the financial district. Tens of thousands had taken part in nonviolent civil disobedience until on Friday the 28th Hong Kong law enforcement responded with tear gas and pepper spray. Protests branched off into other areas of Hong Kong and Kowloon over the weekend, intensifying with each hour into one of the largest political protests in Hong Kong's history. Now known as the "Umbrella Revolution," largely due to protesters using umbrellas (originally brought in case of sporadic muggy rains) to protect themselves from excessive police force, the pro-democracy protests have garnered international attention.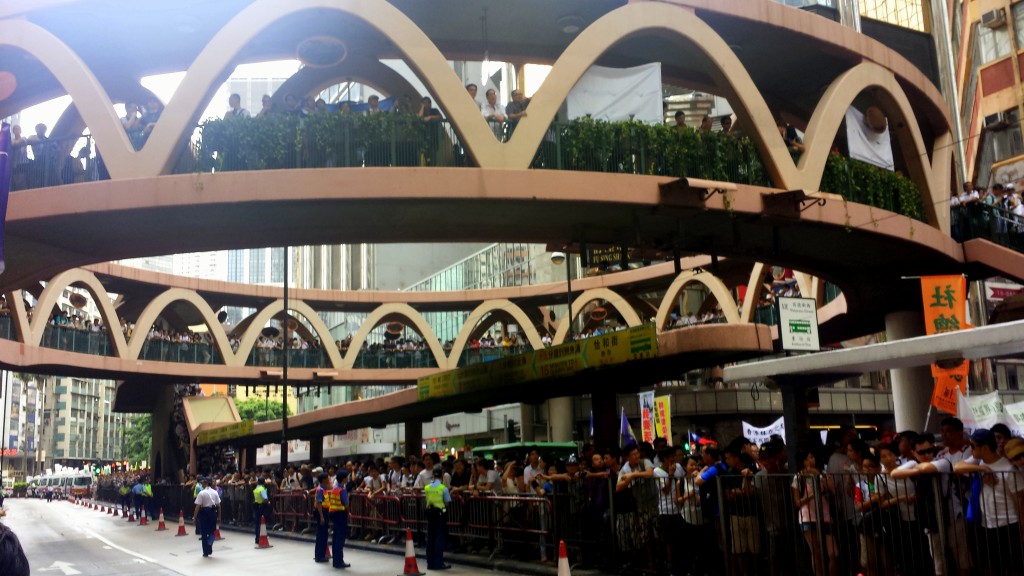 The massive unrest is already impacting the global economy and the Hong Kong stock market has been rattled. Some elites characterize the pro-democracy Occupy Central with Love and Peace demonstrators as hopelessly naïve, yet polls indicate that a great majority of Hong Kong residents would like to vote in an authentically democratic election come 2017. Will the protests lead to negotiations for democratic reforms in Hong Kong? General thought within the debate is that Beijing will not yield. However, through the lens of the media and citizens' journalism on Twitter and Instagram, the world is watching and certainly in support of universal suffrage in Hong Kong in accordance with the Basic Law. Almost one week into the protest, Hong Kong's chief executive Leung Chun-ying is calling for its immediate end as demonstrators call for his resignation, an unlikely possibility considering his selection by Beijing.
From my observation protesters in Hong Kong, while turning out by the masses, tend to err on the side of peaceful nonviolence. However, recalling a pocket of violent disturbance that I witnessed firsthand from the July 1st March, protesters became extremely agitated by the law enforcement's refusal to make space to advance forward during the demonstration. Tensions were high, steel barricades were toppled, one of which a protester allegedly slammed into a bus, and people streamed into the streets to shut down oncoming traffic as police officers scrambled to restore order. While this is not representative of the entire march activity of that day, if this is any indication of the atmosphere currently taking place in Central, there is no telling how far protesters will go to make their demands heard. In a way, this Occupy Central protest is entering uncharted territory for the protesters of Hong Kong. As the call for democracy continues and more protesters take to the streets, I question if compromise is a possibility. A more direct confrontation, hearkening back 25 years ago to those grainy images of Tiananmen Square seems more likely.
Mai Perkins is in the Graduate Program of International Affairs at the Milano School with a Media & Culture Concentration. Follow her on Twitter: @flyMai and www.MaiOnTheMove.com.