Each summer, students from SGPIA spread out across the world as part of the International Field Program (IFP) and Studio Programs! Students conduct independent research, contribute to the vital work of local non-profits, NGOs, and government agencies, and gain invaluable international experience. This summer, our students are living, working, and learning in Argentina, the Balkans, Colombia, Cuba, Ethiopia, and South Africa. The IFP and Studio Correspondents will be the eyes and ears in the field to help us tell the stories of the summer. Check back to learn about each of the field sites.
Its done! On July 15th our team concluded the 2018 Colombia IFP with a presentation of our work to our project participants, and to our partners Coocentral and Sustainable Harvest.
When working in an international capacity, be it policy or development research, it is easy to become lost in the sea of problems we aim to confront. Especially in a program that is critically oriented, we learn that "solutions" are rarely solutions. That the problems in the world that we are galvanized to confront are too big for any one person, for any one organization, for any one country.
Over the course of this summer I have learned the importance of developing such expertise in the fields that the International Affairs programs aim to prepare us for. Spending time within a community, I believe, is the only way to really understand how we can contribute to community action, development, and consultation. Being a third party is not always a bad thing, despite the history that development research, policy, and implementation would suggest.
Various women in the groups of mujeres cafeteras (women coffee farmers) that Megan and I worked with were enrolled in an incentive program with Strauss Coffee, one of the largest coffee companies in the world. In 2017, Strauss committed to provide "financial support for initiatives to improve coffee quality of women's groups through infrastructure development, equipment purchasing and training" (Strauss Coffee Partners). About 25 of the participants had qualified to receive a personal coffee toaster. The logic was that if they could roast their own coffee beans (properly, not on the stove) then they could better gauge the quality of their coffee and thus its value. Essentially, the program was to provide a means to become an active coffee producer, rather than a passive one.
This is all well and good. But, Megan and I stayed the day on Lucia's farm (one woman in our project group) and she suggested that we roast and try her own coffee. She brought out the toaster, but working it wasn't straightforward and we soon consulted the manual for help. It was in English. All the participants that received a toaster had gotten an manual in English, and to top this, the voltage capacity on the average farm is not strong enough to power them in the first place.
Although Coocentral was aware of the issue, they had not found a manual in Spanish. I did eventually find one online, and forward it the extension agent we worked with, but the incident stands out to me as a classic slip in these type of corporate social responsibility projects. Often, similar projects are not designed and tested in the field, but assumed to be effective the way they are without a period of testing and feedback. Processes like rapid prototyping, focus groups, survey design, and participant observations are, in fact, not necessarily intuitive methods. They require training and practice to cultivate expertise. This is why practitioners in field research and development projects and policy are by themselves a class of experts. This issue would not have been addressed if Megan and I did not spend a significant amount of time building a rapport with our participants. Indeed, 7 weeks is not a lot of time, but I imagine if the project had continued we would be able to provide even more valuable information for improving programmatic design.
In the last two days of the program, we had the opportunity to present our methods, project, and suggestions for programmatic tweaks for improving services and communication between the mujeres cafeteras and Coocentral and Sustainable Harvest. Megan and I find it necessary to implement the following:
An "ambassador program" in which select ladies are able to travel to the US to meet with roasters and baristas that sell their coffee. Sustainable Harvest's philosophy of "relationship coffee" strives to transform "a traditionally linear supply chain into an engine for transparency, collaboration, and shared success" (The Relationship Coffee Model). In order to bring a line around to create a cycle, there must be a bridge that involves bringing famers to the US to better understand coffee culture here. Cross cultural experience can't be a one way street.
Community town halls. We designed our project around the concept of "future forecasting". Our justification was that in creating a space in which changes and how the future would be like can be talked about, people will think about these issues and then prepare for them. Indeed, this type of conversational workshop is not typical, as most are set up in a way for participants to receive technical information, rather than to volley between group and facilitator. In our 15 workshops, with about 50-60 participants in each, we observed that these spaces did help in having community issues to be talked about. In one session that stands out to me, one person commented that in terms of contamination and pollution of water and the environment, everyone knows about the problems but they don't talk to each other about them. Community town halls can be an excellent way in which to start these types on conversation, in the hopes that action will follow.
We also suggested that there is a vamp up in branding and marketing of the

mujeres cafeteras

coffee line. We find that the current packaging is not reflective of these women and their experience as women coffee farmers. Those who buy specialty coffee do so for a reason; they purchase it because they value supporting women coffee farmers, and so the branding must reflect the particulars of this population. Pink packaging as a signal for the female gender is not sufficient enough for this purpose.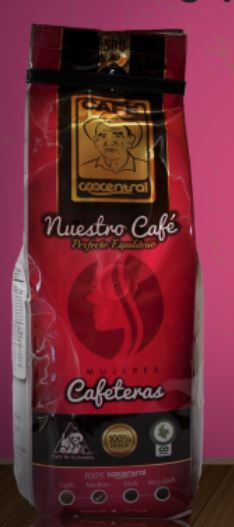 Megan and I leave this project feeling as though we had a great start, but we wish we could carry through even further. We could accomplish so much more in collaboration with the mujeres cafeteras. But more importantly, we were listened to when we presented our suggestions for improvements. After our presentation we met with the leadership of Coocentral and Sustainable Harvest and there are already plans in the works to bring a Coocentral extension agent to get training on the personal toasters to better support and troubleshoot them, and also to bring one of the participants in the mujeres cafeteras groups to the US, per our suggestions. Our community town hall idea was also met with enthusiasm as it would be a relatively cheap and very useful project to carry out. I am very sad to be leaving this project without the ability to return and work more with the friends we made. I feel like I am betraying my own values by not coming back and by not being able to invest in long-term work in Garzon. Still, I have confidence that at least some of our suggestions will be carried out in the future, and for that I feel like we accomplished one goal.
Works Cited
"Strauss Coffee Partners with Sustainable Harvest, Relationship Coffee Institute to Impact Women Growers in Colombia." Coffeetalk Magazine, 5 May 2017, coffeetalk.com/ctpress/05-2017/46161/.
"The Relationship Coffee Model". Sustainable Harvest, https://www.sustainableharvest.com/our-model.