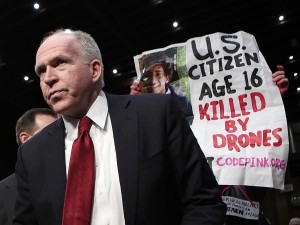 * Protect Access to Medicine for Iranian Civilians
* Declassify the CIA Torture Report
* Fix False Reporting on Venezuela
* Back Senator Sanders: Use War Money to Help Veterans
* Pass the Drone Strike Transparency Bill
For those of us who don't want to bomb Iran or expand CIA operations that  kill civilians, the above are hard propositions to argue against. Emails slugged with these lines and containing a petition to e-sign appear in my inbox on a weekly basis from the government watchdog Just Foreign Policy.
Robert Naiman, the group's policy director and a featured regular at the Huffington Post, DailyKos and Truthout, has received some publicity, mostly from the alternative and left-wing press, for leading a delegation, including Code Pink's Medea Benjamin, to Islamabad. There, he delivered a petition signed by the likes of Oliver Stone and challenged acting US ambassador to Pakistan Richard Hoagland, calling for an end to our policy of drone strikes everywhere.
One of the latest campaigns Just Foreign Policy has taken up, Boycott & Sanction CIA head John Brennan, is an example of how the group ties in multiple criticisms of government policy with irreverence worthy of John Stewart and Stephen Colbert:
"The US is setting a new precedent by calling for sanctions on Russian officials in connection to Russia's annexation of Crimea. So we thought: how about calling on civil society organizations like the UN, Amnesty International, Human Rights Watch, and the ACLU to boycott and sanction US officials who are breaking international law? "
The primary purpose of the petition is to encourage the declassification of information such as reports on the agency's use of torture and the real drone strike numbers: "John Brennan should not receive any award, honor, or recognition until the CIA takes concrete, minimal steps to transparently comply with US and international law."
The group's campaign to fix false reporting on the situation in Venezuela in the New York Times helped lead to a printed correction and hence was a success. So what can the John Brennan campaign really accomplish? Clearly this hardened back-room warrior, accused of running black ops before he was CIA director,* is not going to release tides of data damning the CIA or the administration at the threat of losing Humanitarian of the Year award.
Boycott & Sanction is a multifaceted awareness-raising campaign designed to take advantage of current events—namely the US using sanctions against Russia for violating international law, which the blurb noted, is setting a new precedent.** As has been pointed out repeatedly, that makes the US government guilty of hypocrisy in addition to violating international law. Here, that is only the first level of criticism.
For the public both domestic and abroad, the CIA is one of the most recognizable symbols of crimes and double-standards in US foreign policy. Their torture and drone programs don't even need to be declassified for people to realize that they violate international law. But as a target, the CIA is too vague, both a caricaturized hero and villain in Hollywood. This is why the specific targeting of John Brennan, who most Americans have never heard of, is important for raising awareness of the crimes committed by the US. These crimes need a clear, memorable culprit. And yet the idea that this accused spy king can easily redeem himself exudes the moral element of Just Foreign Policy's agenda.
The wider goal of awareness of government-approved international crimes is embedded in the (sadly) radical goal, which is expressed with a measured politeness: That the CIA take "minimal steps" to comply with US and international law. Will the organization try to redeem itself? At the time of this post, the petition was at almost 8,000 just idealists.
….
* In a book about the September 11, 2012 attacks called "Benghazi: The Definitive Report" by former special ops agents Jack Murphy and Brandon Tyler Webb, John Brennan, not Libyan Islamists, is portrayed as the true bad guy. The attack that killed four Americans, the authors say, was in retaliation for Brennan's black ops in the area.
** The campaign is also well-timed to this: "Sen. Dianne Feinstein's quest to release a long-awaited and bitterly divisive report on the CIA's Bush-era detention and interrogation practices gained the support of two key Senators on Wednesday, all but assuring majority support to release the report's primary findings." From Foreign Policy magazine newsletter April 3, 2014 by Gordon Lubold.