When our IFP group met during the Spring semester for Amharic class, I our coordinators described that the two months tend to be a three-part emotional roller coaster, starting with pure excitement and joy of being in a new place for the first couple of weeks, then transitioning into an intense yearning to go back home, and finally recovering from the funk and getting actually adjusted to the place in last ten days or so.
For me, this curve had certainly proven to be true. The beginning of the rather 'gloomy' middle also coincided with the internet shutdown and inability to regularly talk to my friends and family which definitely did not help the situation. The rather limited public transportation system, especially in relation to the massive urban population, in addition to our constant ferenji (foreigner in Amharic) visibility whenever we walked out of the compound seriously impeded my mobility. Taking off whenever and wherever I want to in New York is definitely a major part of my coping mechanism with all the challenges that come with being in a tough city, so feeling like I do not have as much of that freedom, at least for the first month and a half, was probably the hardest part of the whole experience for me. But now that I am a few days away from going back home, I finally feel more comfortable exploring the city, more adjusted the local pace, and can even navigate my way through a (very) brief conversation in Amharic.
When I originally decided to go to this IFP and all throughout the Spring semester, I was really hoping that this experience would provide me with a clear career trajectory. Would I decide that fieldwork is my calling and immediately start applying to jobs abroad upon graduation? Or would I realize that a steady desk job at an NGO headquarters seems like a much better fit? Unsurprisingly, my two months at a brand-new country doing something I have never done before, did not provide a clear answer to either one of these options. The moments visiting and listening to women share their stories, felt the most rewarding. But there were times when I wondered, is it even my place to ask?
Unfortunately, "impostor syndrome" tends to accompany me in almost any new undertaking, be that graduate school or writing blog posts for IFP… The notorious voluntourism trips and the baggage of questionable outcomes that tends to come with such excursions were making me even more anxious about coming here, even though the nature of IFP work appeared different than building schools or teaching English. Yet, the warmth of the reception of the first Self-Help Groups we visited (which remained the case for the majority of our data collection trips), as well as the observant and inquiring nature of the work definitely soothed some of my worries. CoSAP defines the women it organizes into Self-Help Groups as "the poorest of the poor." Learning firsthand from such vulnerable communities throughout the summer has definitely been quite sobering, especially after being immersed in the world of academia for the past year.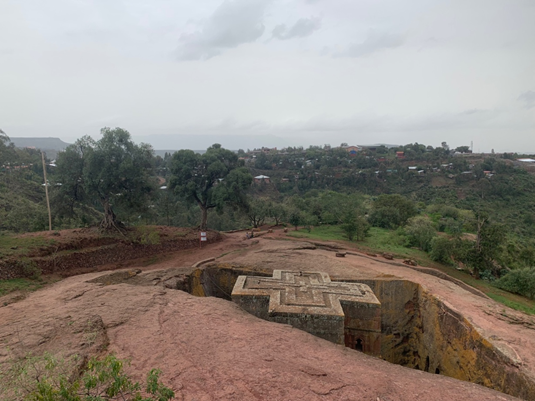 The one thing I do really wish for and am noting for any future social research I might do is that I speak the local language well enough to at least ask the questions myself and understand even part of the conversation. Although we had wonderful and respectful translators, the stories we heard were a shortened interpretation of the original, parts were inevitably lost, and, most importantly, there remained an intangible barrier between us and the women we interviewed, which I could not do much about.
Throughout the trip, I have felt both very homesick and happier than I feel in New York, excited to travel to new parts of the country and craving the familiar. Though I still cannot tell whether fieldwork is or is not exactly what I want to be doing long-term and am just processing all my experiences, I do know that I deeply enjoyed the work. Besides, it has challenged my perspective on many matters, regarding "development," poverty alleviation, environmental justice matters, among others, and opened up a host of challenges and complexities I could not have seen had I not come here.
Finally, I am so grateful for all of our local coordinators, interpreters, and guides that stayed patient with us, were generous with their time, and showed us around their beautiful country. Apologies for being cliché, but those memories will surely last a lifetime.