When the Williams sisters arrived on the professional tennis scene in the mid-90s, the world was a very different place. Since then, the Williams sisters' domination of the professional circuit has been the one constant throughout the last 20 years. From Serena's 67 women's singles titles and her 21 women's doubles titles, it is hard to imagine a Women's Tennis Association sanctioned tournament without Serena Williams not only winning the competition, but also winning in style. To watch Serena play in her prime should be a privilege for any self respecting tennis fan, and yet for many it isn't.
After her sixth win at Wimbledon on July 11, 2015, social media was very active with comments about the historic event. Unfortunately many of these comments were negative, if not downright racist. People have a way of bringing down black athletes, especially in tennis. Arthur Ashe learned this firsthand in 1968 when he won the US Open. The echoes of racial taunts then are very similar to what the Serena has had to deal with now. The 2001 Indian Wells tournament featured allegations of racial taunts against Serena and a lack of intervention by the tournament officials. When asked about the racial taunts, the organizers refused to apologize.
It could be said that simply yes they are and always will be racist people who will judge an athlete based solely on the color of her skin but sadly the problem is much deeper than that. The bigotry Serena faced extends to mainstream media both in and outside of the United States. In a New York Times article titled "Tennis's Top Women Balance Body Image With Ambition", the reporter talks about how Serena's rivals "could try to emulate her physique, but most of them choose not to". According to The New York Times, it's apparently not that Serena has worked hard to get to where she is, or that she is more talented than other players, it's that she is simply bigger and stronger than they are. More than that, other players could easily do what she does on the court but they don't want to end up looking like Serena.
It could also be said that there are simply some people in the media who try and tear Serena down, but the problem is even deeper than that. In a 2012 exhibition match fellow player Caroline Wozniack stuffed her bra and skirt in an effort to emulate and intimidated Serena. This act was not only found to be funny by the people in the audience, but also by the commentators, and fellow players, many of whom have said on record that Serena has a distinct physical advantage over her contemporaries.
Sadly this treatment of Serena Williams is not unexpected. Spectators, the media, even fellow professionals have a certain way of dealing with successful black athletes, especially female black athletes. In hyper sexualized media, women, particularly famous women, are judged mainly on their looks rather than their accomplishments. Even though on the court Serena has no equal, this does not translate into more financial success. The eleven million dollar endorsement deals per year for Serena are only half of what her so-called rival Maria Sharapova makes (so-called because the last time Maria beat Serena was in 2004 even though they played each other 17 times since then). What is more frustrating is that Serena Williams seems to be the perfect representative for any self-respecting company. She is well spoken, speaks multiple languages, and has never been in any sort of legal or personal trouble. Any company trying to build a brand or continue to dominate the market would be lucky to have her. More importantly, Serena Williams' championship record far overshadows Sharapova's win record, or any other active female tennis player. But for a black female athlete, victory isn't enough. Even when she wins it doesn't count because Serena supposedly has a physical advantage over other players. An advantage that also makes her less feminine and marketable. As a result, Serena's accomplishments get diminished because she is a black woman. No matter how successful she is or will continue to be it will never be good enough for some. Serena will always be an outsider in the world of tennis, an interloper in a world where the vast majority of athletes are white and until recently women were paid only a fraction of what the men made (you can thank her sister Venus for changing that).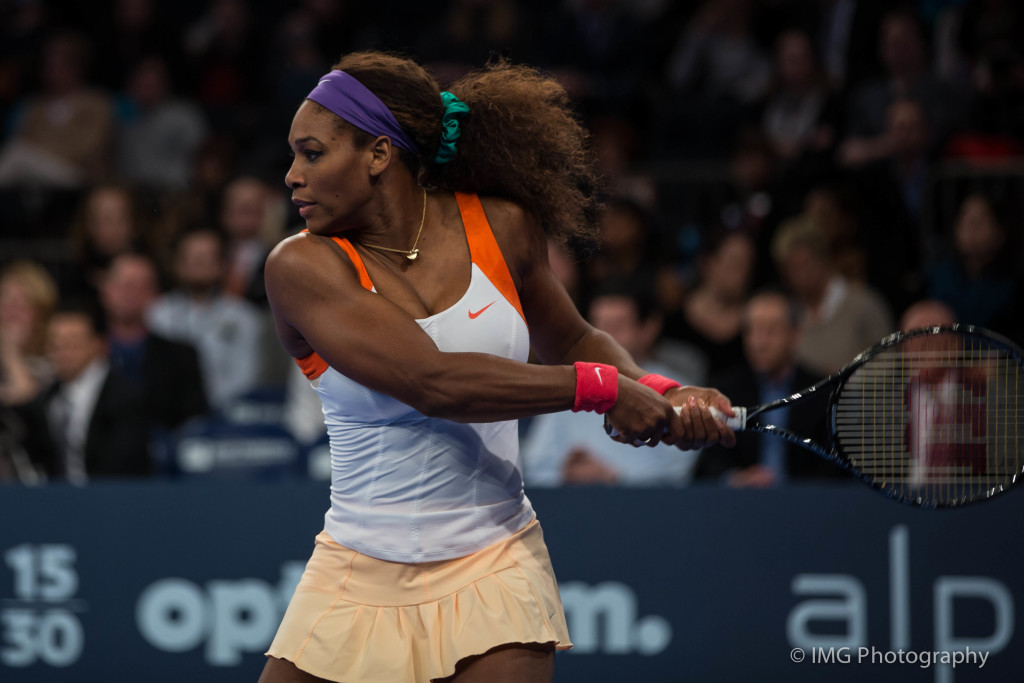 Serena Williams is not a beloved icon in the United States or Europe the way other professional athletes are. She is too black, too dominant, too unlike the atypical women who make the tabloid headlines. Her record on the court speaks for herself, but a winning record isn't resulting in the respect Serena deserves. Comparatively Serena is one of the most successful athletes of this and previous generations. Maybe years from now she will be recognized as such in the history books, but right now her record doesn't seem to be enough.
Tonight, Serena Williams plays in the semifinal round of the 2015 U.S. Open. We recommend this ESPN article to learn more.