Meet the New School Non-Violence Project! Thanks to member and GPIA graduate student Elyse Greenblatt, The New Context learned a lot about this wonderful student organization.
1. When did the NVP start? And what is your mission?
The New School Non-Violence Project is an affiliate of the Non-Violence Project Foundation. The Foundation was established in 1993. It is an international foundation with the mission to inspire, engage, and motivate people to understand how to solve conflicts without resorting to violence. The New School Chapter was formed in 2013 that follows the same mission here in New York City by reaching out and partnering with different local organizations providing training to youth facilitators to educate people on non violent conflict resolution.
2. What types of events do you normally put on?
We hold a variety of events on campus throughout the year. In the past we held a non-violence auction: auctioning off art pieces. We have participated in The New School's Block Party as well as The Dawn of Summer last spring. We have some artwork from these events hanging on the 5th floor of the University Center. Every spring we have held a Non-Violence Project training session that taught non-violent conflict resolution training skills. With these skills, participants were equipped to train youth facilitators on non-violent resolution methods. This semester we are hosting a 5 part film series provided by PBS entitled Women, War and Peace. At each screening we will have special guests with expertise and knowledge about the specific film episode shown. Members of the audience will be able to engage in discussion by either asking questions or making comments of the subject at hand. In addition, the audience will be provided with delicious snacks!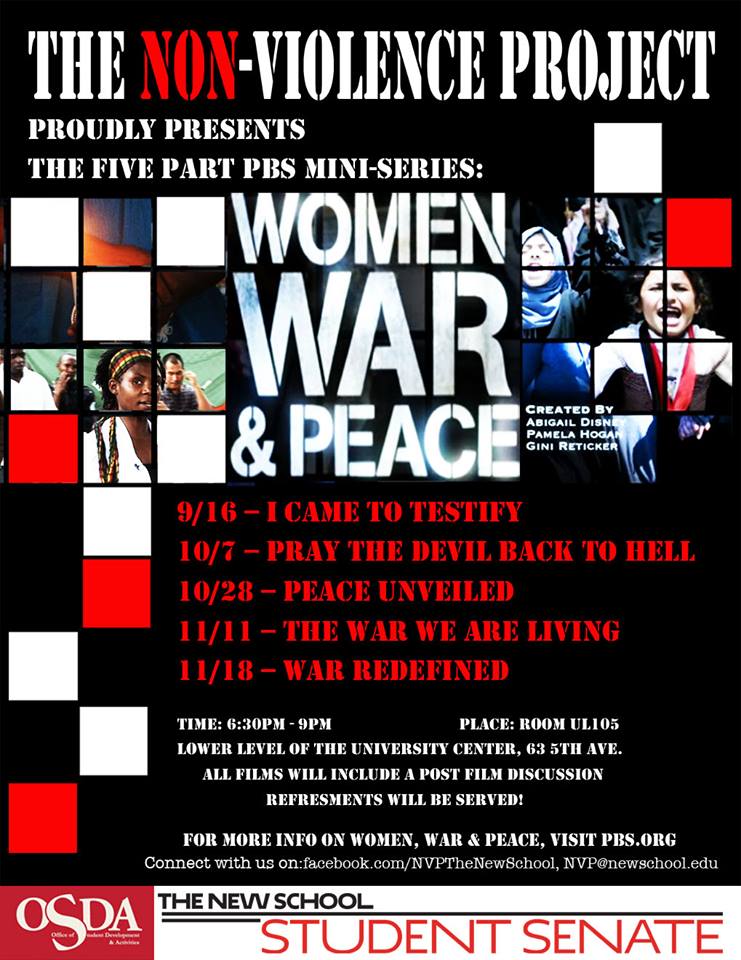 4. How did you select which films to feature in the series? And which is your favorite?
The films are all from a PBS series of the same name, Women, War, and Peace. The film series, which is very well done, cover a variety of issues and geographical areas. It covers five distinct episodes highlighting women's collective responses to conflict in their regions spanning from Bosnia to Afghanistan and Columbia to Liberia. We believe a film series is a good way to not only spread awareness of past conflicts around the world but to also bring attention to individuals that have been silent for years. As a result, discussions can start around The New School campus and hopefully beyond.
5. Are there any organizations or individuals that the NVP views as inspiration?
Speaking for just The New School chapter, we hold all organizations that work for the support of peoples in places of crises, support non-violent solutions, and promote peace above all in high esteem. There are many organizations around the globe that do this and we are always working to educate ourselves on them and their missions.
6. Is the NVP specifically for graduate students? Or specifically for one gender or age range?
NVP is open to all New School students. We believe that non-violence and non-violent conflict resolution are invaluable skills that transcend all fields of study.
7. How can interested students get involved in the NVP?
Not only do we still have four more screenings left this semester but we also have our regularly scheduled meetings. We have lots of ideas for events and projects.
NVP can be reached in multiple ways! Email nvp@newschool.edu, https://www.facebook.com/NVPTheNewSchool,  https://twitter.com/TNSNVP and https://instagram.com/nvpthenewschool.
Catch the next film in the Non-Violence Project series this Wednesday, October 7th at 6:30pm
in UL105 (63 5th Ave.)!