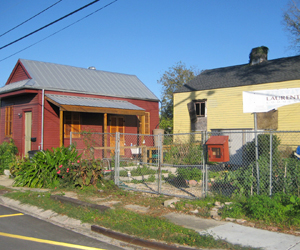 By Rebekah Frank
The day after Hurricane Sandy left large swaths of New York and New Jersey decimated, burnt and under water, I took a walk down to the Red Hook neighborhood in Brooklyn to survey the damage. I was shocked by what I saw—three-foot-high water marks on the public housing buildings, puddles the size of small ponds, piles of drenched belongings stacked on the sidewalks, cars that had floated from their parking spaces and had landed, water-logged, in the middle of normally heavy-trafficked streets. I thought about the long road ahead for the people of Red Hook and other seriously impacted neighborhoods.
My mind raced back to August 2005 and the destruction wrought on New Orleans following Hurricane Katrina. I thought back to the images and stories during the weeks, months and even years following the storm. I started thinking about what it takes to repair—or, more specifically, who it takes. I thought about the aid money now flowing into New York from all corners of the globe. I thought about how long that money would continue to come our way, what areas would receive most of it, what areas would soon be forgotten. I thought about the Lower Ninth Ward.
I am a staunch believer in the importance of a big government. In the modern, capitalist society that we have created, a crucial role of the government is to protect the people from the injustice of the unfettered market. For years, I have been avoiding the reality that, rather than being a beacon of hope for the millions of people forgotten by capitalism, the government has become a protector of the system at all costs and a partner in disempowering those most devoid of power to begin with. I finally realized that if areas like the Lower Nine and Red Hook wait for federal money and manpower to clean up a mess that is largely, through the persistence of its racist and classist policies and rhetoric, the government's own doing, they will be waiting forever. Indeed, the Lower Nine, almost eight years later, still has not gotten nearly the amount of sustained help as the French Quarter has, despite the fact that the Nine experienced significantly more damage.
Once the waters and the aid money recede, we are left only with ourselves and our desire to rebuild. I began looking into movements in both the Lower Nine and Red Hook that incorporated my own interest: agriculture. What I found were two separate organizations—The Backyard Gardener's Network in the Lower Nine and Added Value in Red Hook—both working to better their own neighborhoods through community gardening and youth empowerment in agriculture, respectively. This idea of using community gardening and urban agriculture as a means through which a neighborhood can build bonds, power and resilience in the face of future disaster became my thesis.
Through reading and interviews, I explored the idea that the same structural racism that undergirded the poor response by the United States government, particularly in the case of Katrina and the Lower Nine, actually exists in our current conversation regarding urban agriculture. Urban agriculture is not something that is new but has been happening for generations. And yet that experience has largely been omitted from our current narrative. It has become a movement claimed largely by white, college-educated people in the north who are ignorant, willfully or not, of the long history of a cultural tradition that has played an important role in lower income neighborhoods in cities and towns across the country. I decided to delve a little more deeply into the politics of urban agriculture and to think about ways that a space for diversity can be made within the current urban agriculture movement.
Abstract
The (Re)Branding of Urban Agriculture
In August of 2005, the Lower Ninth Ward of New Orleans was completely decimated by Hurricane Katrina. In 2009, native New Orleanian Jenga Mwendo started an organization called the Backyard Gardener's Network (BGN) whose primary goal is to use gardening as a tool to rebuild and strengthen community. The mainstream media tends to paint the urban agriculture movement as something that is brand-new and typically carried out by "white, northern, young people."
My paper investigates this rebranding of a movement that, because it was oftentimes carried out by low-income, inner city people of color, did not receive the sort of attention given to similar movements being carried out by college-educated, young white people. Furthermore, it will look into the difference between necessity—using urban agriculture as a way to access proper nutrition in neighborhoods lacking grocery stores—and preference—people who have access to quality produce but choose to pay perhaps higher prices to feel better about where their food is coming from. In a movement largely controlled by the latter, where does an organization like the Backyard Gardener's Network fit in?
ABOUT THE GPIA CONFERENCE
The aim of this conference is to offer graduate students a forum to present and critique new ideas and research. This forum presents an opportunity for participants to gain valuable experience in presenting their work for discussion with other graduate students, as well as the GPIA faculty. Each session, led by a discussant from the program, will feature 2-4 presentations, followed by discussion and commentary from a faculty member and a student.
Tuesday, April 23rd, 2013
Hirshon suite, 55W.13th Street, 2nd floor
9:30am-6:30pm