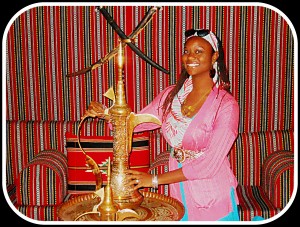 By Mai Perkins
Thirteen years ago in a small off-Broadway theatre, I was captivated by Sarah Jones' provocative one woman show "Women Can't Wait." In the play, Jones portrays eight different women from around the world, each living under laws that violate their human rights. At the time, it didn't dawn on me that Ms. Jones' work, commissioned by human rights group Equality Now and the Ford Foundation, was the consummate merger of creative aptitude and social activism.
Years later, I understand the power that the poet and actress evoked over her audiences, while bringing attention to a staggering global women's rights issue. According to her website, "Sarah continued to perform the piece for audiences across the country and the world including United Nations delegates; in five cities throughout India; in Slovenia; in Mexico; and for the Supreme Court of Nepal in Kathmandu as part of a historic campaign in which Nepali activists and Equality Now partnered to advocate for laws supporting women's human rights." Therein lies the catalyst to my enrollment in the Graduate Program in International Affairs at The New School, where my concentration is Media & Culture. I'm a poet, an artist, and I recently spent a year outside the United States; for my next steps, I decided to work toward merging creative aptitudes and advocacy in order to curate platforms for social movement and change within human rights.
About two years ago, I did the most audacious thing I have done to date when I applied, on a whim, for a job in the Middle East. I accepted the position and pressed pause on the Brooklyn life I love to move to the Arabian Gulf. Though teaching high school was not my dream job (I had spent four years teaching writing classes at City University of New York), I had long wanted to experience life and a career abroad. It was time. Ironically, my experiences living, working and traveling in the Gulf Coast countries clarified what I do and do not want in a career. I will readily admit that the job had been a bit of a mismatch — not because I was one of few women in the region, trailblazing as a teacher of adolescent Arab males (I taught at an all-boys high school), but because I was overcome with finding more meaning and satisfaction in the work I was doing in the global sector.
It's now clear that the least of what I was teaching was English language competency, but rather cultural and ethnic sensitivity, social advocacy, (gender) tolerance, ethics and humanity. Images and stories that the media often projects worldwide facilitate how individuals in local communities decide to build up and protect, or tear down and devalue these sociocultural and political elements. It is the work of artist activists like Ms. Jones and many others that continue to inspire me to give voice to those who cannot speak for themselves. I will never forget the day a 16-year-old student, Saud, asked me, "Ms. Mai, do you know that in Europe they think we are all terrorists? Why do they think this, Miss? Do you think that we're terrorists?"
The innocence in his line of questioning nearly brought me to tears, and in answering, I appealed to his critical thinking.
"Habibi, would I come here every day to teach you if I thought you were terrorists?"
"Well, then tell them, Miss. Tell them we are not terrorists."
Saud's request has become a challenge to me because I understand that his image, their collective image, is up against a skewed reflection portrayed through global media. Access to popular culture is now widespread and images, despite the measure of truth or fallacy, shape issues of sensitivity, advocacy and tolerance. Working with this group of young men, the Habibis (Arabic for sweethearts), as I affectionately called them, has blossomed a depth of strength, resilience and compassion that I never realized existed in my own being. However, living there also revealed some ugly truths. For example, the misperception of Black Americans in the international spectrum, specifically the Middle East, and the interactions that occur as a result are sometimes unnerving. A majority of this misperception comes from media representation saturated with cultural bias. People often think they have an understanding of Black Americans based on pop culture icons. The degree to which people are limited in their scope of Black Americans is disheartening, as in my experience, stereotypes are usually based on four extremes: Beyoncé, Tyler Perry's Madea, Lil' Wayne, and President Obama. I often found myself wanting to express to non-Americans that the Black American experience is so much more than these archetypes.
No, I don't listen to Lil' Wayne. No, I'm not Beyoncé's cousin. No, I don't want to discuss the Madea movie. No, I've never met President Obama. Please stop saying "Hakuna Matata!" to me!
Yet, I realize the same can be said of Americans and their often myopic scope of the world and its many inhabitants. I also frequently encountered the assumption that though living in America, I must be first generation from the African continent or have acquired a green card. I was sometimes regarded as a second class citizen because of common tendencies to treat people (women) from developing nations accordingly. Consequently, the push has become an urge to work within the forums that develop how cultures are characterized through a clearer lens so that cultural and ethnic sensitivity, social advocacy, tolerance, ethics and humanity are established on the world's stage and in ways that appeal to both policy makers and constituents.
Involvement in the international affairs program means artistically delving into the sociological and anthropological perspectives of how media impacts culture globally. I've spent a great deal of time contemplating these very dynamics while traveling and I am experiencing great personal development as I approach these topics through academic discourse. I contemplate springboarding my work at the Milano School into creative research for doctoral studies in international affairs. My first semester in the program has already proven to be a thoughtful and stimulating journey, and I definitely see it as an invaluable bridge into the life work I envision moving forward.
Sarah Jones @ The UN, Women Can't Wait, Part 1
Sarah Jones @ Chicago Humanities Festival
Mai Perkins is completing her first year in the GPIA. Many of her adventures around the globe are documented on her blog: Mai On The Move! www.MaiOnTheMove.com  Originally from Los Angeles, she is currently living a decade long bona fide love affair with NYC and the music that keeps its spirit moving.