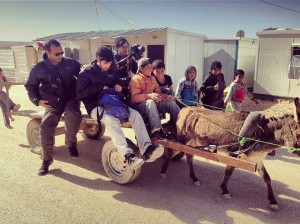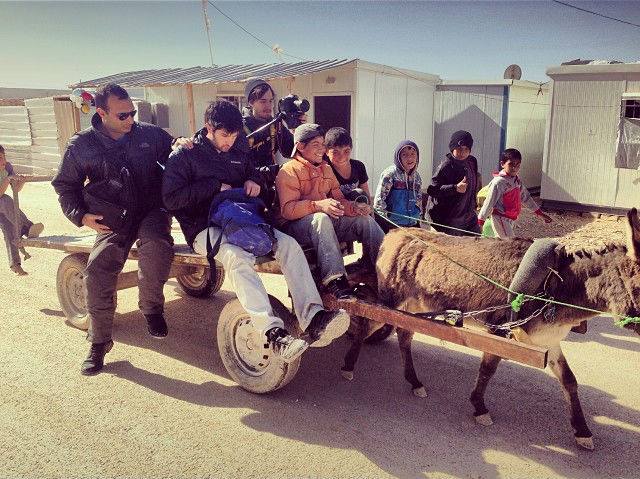 From January 19 through February 15, American filmmakers Chris Temple and Zach Ingrasci will be living alongside recently displaced families in a Syrian refugee camp in Jordan. Realizing the severity of their own lack of understanding and misconception of the Syrian refugee crisis, the filmmakers have partnered with 1001 Media to launch Salam Neighbor – a film and journey to connect with Syrian refugees. Along with Ibraheem, a young Jordanian translator, they will share the same conditions, eat the same food, and use the same facilities.
Thanks to constant media coverage, most of us are familiar with the Syrian refugee crisis. We've seen the phrase pop up in our news feeds and noticed it splattered across the headlines of major newspapers. The images of sprawling, smoke filled refugee tent cities should be familiar to anyone who watches the nightly news. However, the reality of life in such a place is almost unimaginable for most of us.
Temple and Ingrasci, founders of the production and social impact studio Living on One, are attempting to bridge the gap between these two worlds. The film will aim to show the daily struggles, heartbreaks and dreams that make up life on the edge of one of the world's most devastating war zones. While Temple and Ingrasci acknowledge they will never be able to truly understand the refugee experience, they hope to use their unprecedented access to tell their stories with the dignity they deserve and depth the world needs.
To connect a global audience to the Syrian refugee crisis, Living on One and 1001 MEDIA are also developing a social action campaign in partnership with UNHCR, the International Rescue Committee (IRC) and Save the Children. The campaign will use social media, daily live video feeds and blog posts allowing people around the world to ask questions of the filmmakers in real-time to help them better understand the daily life of refugees. The project's launch video, which was publicly released on January 14,  encourages all its viewers to join the live journey and support refugees. With every share of the video from Living on One's Facebook page, $1 will be donated to the refugee cause.
Salam Neighbor is the second film project by Temple and Ingrasci. In 2010, the two then-college students took two cameras and spent their summer living on $1 a day in a rural Guatemalan village. From the resulting footage, they created the feature-length film, Living on One Dollar, which chronicled their battles with intense hunger, parasites and the realization that there are no easy answers. However, the strength of their neighbors and friends gave them hope that there are effective ways to make a difference. The film has since won Best Documentary at the Sonoma International Film Festival and received endorsements from Nobel Laureate Muhammad Yunus and USAID Administrator Rajiv Shah.
Temple and Ingrasci hope that their current project will have the same positive effect as Living on One Dollar. In a press release, Temple and Ingrasci state, "Just like our first film, this is an immersive journey to go beyond the surface level. By having people all around the world join us in real-time, they can ask their questions, shape the film and immediately create change through the fundraising campaign. This is a new type of filmmaking that empowers an active audience."
Indeed, Salam Neighbor and its accompanying social media campaign are paving a new way for both filmmakers and audiences to engage with pressing global issues like poverty, violence, and war. However, there are several ethical concerns inherent in this project and the filmmaking process. First, there is the concern that four weeks is simply not enough time to truly grasp the reality of life as a refugee. Additionally, at the end of the four-week period Temple and Ingrasci have the privilege of returning to their comfortable, Western life – a privilege none of the refugees have. How do they reconcile this with their mission? Another concern is that their temporary "struggle" will in some ways overshadow the realities of the refugees forced into these situations. Many of the comments on Living on One's social media pages congratulate the filmmakers for going through such a difficult experience, effectively focusing the attention away from the Syrian refugees. Is turning the lens on themselves actually detracting from their original goal of portraying the struggle of these refugees? Of course, all of these concerns will remain unanswered until the final product of the film is released. Until then, check out the links below and form your own opinion:
Website:
http://livingonone.org/salamneighbor/
Facebook page:
https://www.facebook.com/LivingonOne
Launch video: