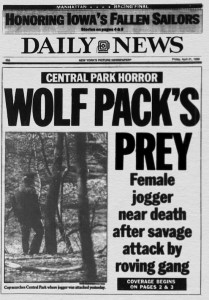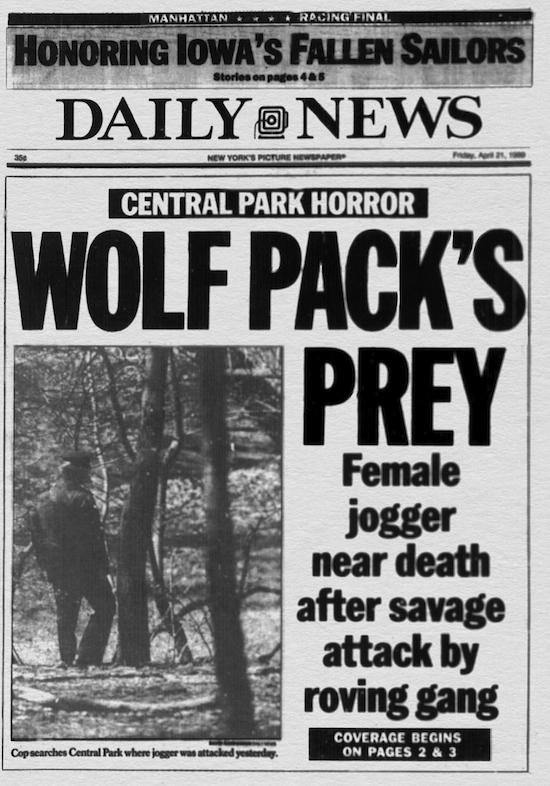 On November 24, 2012, I attended a screening of lauded documentarian Ken Burns's latest, The Central Park Five. The film recounts the story of five black teenaged boys falsely accused of beating and sexually assaulting a white female jogger in Central Park in 1989. The case was described by then New York City mayor Ed Koch as "the crime of century," and the combined failings of a corrupt police department, overzealous prosecutors and sensationalist media resulted in the wrongful conviction of five teenagers, who served nearly a decade in prison before being exonerated. The Central Park Five is a must-see, and I hope, with increased visibility, the film will prompt frank discussions about race, class and crime in American cities.
Following the screening, four of the five falsely convicted men participated in a panel to discuss their case. Prior to speaking, one of the men led the audience in a chant familiar to many activists: "No justice; No peace!" As I joined in the chant, I began to reflect on its meaning. "No justice; No peace!" is a threat. It subsumes peace to justice and insists that absent the former oppressed populations will not consent to the latter. While it is not necessarily an incitement to violence, it acknowledges that injustice breeds violence.
Two days before I attended the film screening, a ceasefire was reached between Israel and Palestine following eight days of violence in Gaza. This most recent fighting began when Israel carried out an airstrike assassinating Ahmed al-Ja'abari, the head of Hamas's military operations. Palestinians launched missiles in retaliation and Israel responded with deadly force. After eight days, six Israelis and 163 Palestinians were dead. As I stood chanting: "No justice; No peace!" angry at the five lives ruined as retribution for one, I couldn't help but think about the 163 lives taken for six.
The current ceasefire agreement will not hold the peace. It is merely a Band-Aid on a wound that has been festering since 1948. Absent justice, there will be no peace for Israelis or Palestinians. So what can the tale of The Central Park Five offer in the search for a just solution to the Israeli-Palestinian conflict?
For starters, community activists were instrumental in overturning the Central Park Five's conviction, and similarly, local and global activists must work incessantly to turn the tide toward justice. The institutionalization of the peace process, evident in the emphasis on so-called high-level forums and closed-door summits, has hindered efforts for a viable solution. The affected populations have not been provided an adequate stake in the negotiations nor a platform for airing grievances. More importantly, while violence against civilians has occurred on both sides, Israel must acknowledge that the living conditions it has imposed on the Palestinian people amount to crimes against humanity and Israel must be held accountable. Without accountability, there can be no just resolution to the conflict, and absent justice, Israel has no claims to peace.
Given parallels between the violent realities of Palestinians and Black Americans, it is not surprising that there is a long history of solidarity between the two groups. Famed activist Angela Davis is one of many prominent Black voices joining the call for Boycotts, Divestment and Sanctions (BDS) of Israel. Following a trip to Gaza, Davis said the living conditions reminded her of growing up in the Jim Crow South. It is fitting, then, that as I exited the Harlem theater, I was handed a flyer with a picture of a dead Palestinian child, advocating popular outrage and mass protests to end the bloodshed. In the messy, complicated and often heartbreaking search for justice, this flyer, perhaps, captured the one truism: justice must be demanded by a vigilant public.
By Brittany Duck