Aaron Leaf is a graduate student at the New School working on a masters thesis about Monrovia, Liberia's post-conflict reconstruction efforts. The project is to connect current attempts to mold the city with a history of Liberian urbanism, looking at Monrovia through a variety of different theoretical lenses.
The following post is the first of a New Context mini-series, taken from from Aaron's microblog that acts as a public document of his research. Aaron was in Monrovia this January, and these posts reflect some of his spontaneous thinking about politics, culture and the city, and bring some transparency to this process. 
Find out more about Aaron at aaronleaf.com.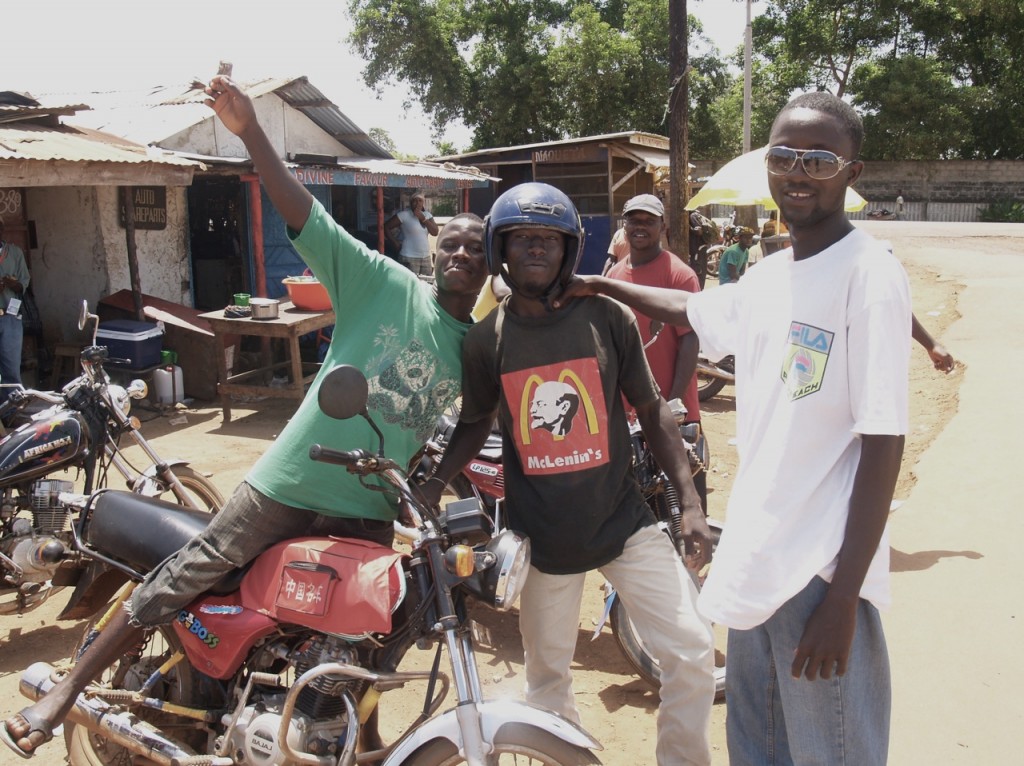 Three years ago I worked on an article about vigilante groups with Eugene Meyers at the Heritage newspaper. The vigilantes told us that their "community watch" patrols were formed to keep the motorbikes out of neighborhoods at night and the crime that came with them. The motorbike riders told us that these groups were actually extortion rackets preying on innocent bike-taxi businesses. The truth seemed to lie somewhere in the middle of course.
A common view of the estimated 12,000 commercial motorbike drivers among Monrovians is that they form a kind of criminal underworld. Many of them are former combatants, addicted to drugs and rough around the edges. All of them are young men with the kind of recklessness that follows young men anywhere. I remember after one was killed in a traffic accident in 2011, hundreds of them driving enmasse down Tubman past the President's compound, their bikes decked-out in ceremonial leaves and branches, doing wheelies and hand stands. Nobody stopped them.
It was an old joke to talk about the "motorbike wing" of JFK hospital. Police claimed there were over 1,000 motorbike casualties last October alone. Then in November, a schoolbus accident killed a rider resulting in the bus getting burnt in retaliation. This was the last straw.  Now bikes are banned completely from the city center. This has crippled many people's commutes but also made the center of town less chaotic and a lot quieter.
Clair MacDougall has written a great article about the ban for the Guardian's Global Development section.
Yesterday I ended up getting light heat stroke walking from Waterside to Mamba Point, a route where motorbikes are, in fact, still running, but riders refused to take me on account of police presence along the way, turning down increasingly exorbitant offers of cash.
An expat friend of mine who used to work at the Ministry of Justice assures me that this ban is just the first step in a plan to create a limited pool of regulated motorbike taxi drivers with helmets and protective vests. This would be impossible, he believes without a complete ban first.
He was the second country-wide recipient of a private motorcycle license for his high-end racing bike. Along with a handful of other "big-bike" owners in the country, expats and diaspora Liberians, he regularly tears down the newly finished Buchanan highway at speeds of 120 miles per hour and more. It takes them 45 minutes to do a trip that used to take me up to three hours in a four wheel drive.