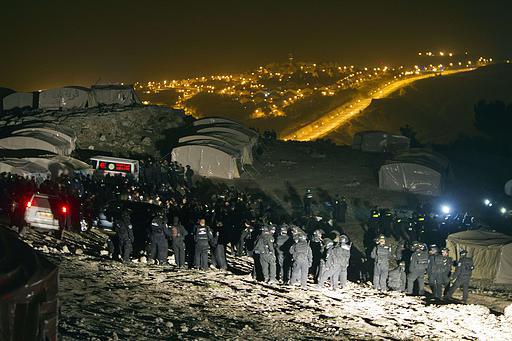 On January 15: The eviction of a Palestinian activist encampment by Israeli forces took place a few days earlier than expected.
The direct action did not go viral. The story was eclipsed by the deaths of Palestinian teenagers.
See #BabAlshams for the story in tweets.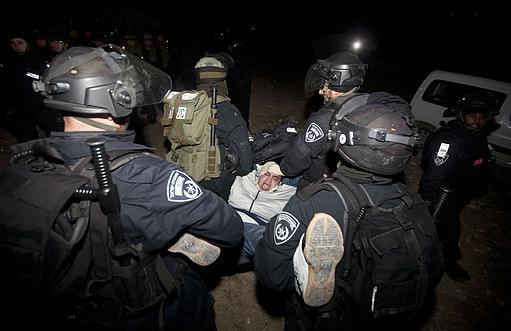 The original post, Jan. 13, 2012
A direct action movement has occupied land outside of East Jerusalem that is designated for Israeli settlement. With less than a week till eviction, will the Palestinian protest go viral?
Said the New York Times
"JERUSALEM — Adopting a tactic more commonly employed by Jewish settlers who establish wildcat outposts in the West Bank, scores of Palestinian activists erected tents on Friday in a hotly contested piece of Israeli-occupied West Bank territory known as E1, and they said they intended to stay put."
An updated report from
Bab Alshams, Occupied Palestine
Israeli army and police have been laying siege to the newly founded Palestinian village of Bab Alshams since earlier today, blocking all roads leading to. The area has been declared a closed military zone. The village was inaugurated yesterday on Palestinian land, East of Jerusalem, in an area referred to by Israel as E1, and designated for the expansion of Ma'ale Edomim settlement.
And the latest from the New York Times Lede blog
As my colleague Isabel Kershner reports from Jerusalem, Israeli military authorities served the protesters an eviction notice, but the activists said they had preempted that action with an appeal to the Israeli Supreme Court for a delay and would be allowed to stay for at least six days.
With five more days to go, Robert Naiman, policy director at Just Foreign Policy, is trying to make sure the world will be watching the nonviolent action and has been tweeting journalists:
Dear @NickKristof: pls help draw attention to this: Palestinians Set
Up Tents Where Israel Plans Homes http://nyti.ms/TPkVDN  #BabAlShams