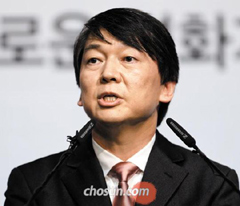 South Korea's strong third-party independent sold out. In a "razor-thin" presidential race to be settled on December 19, political pragmatism has trumped third party idealism in an effort to thwart a conservative victory.
Popular independent candidate Ahn Cheol-soo sacrificed his chance at the presidency and his vision for the greater good, officially dropping out of the race on November 23 so his party could unite with the left-leaning candidate from the Democratic United Party (DUP), Moon Jae-in, a human rights lawyer and former activist. Perhaps this is a lesson learned from the 2007 contest, when an independent took more than 15 percent of the vote, and the conservative Saenuri party's Lee Myung-bak took the Blue House in Seoul from the DUP.
Though the merger was announced in October, neither candidate was eager to step down. But when Moon's DUP election committees ramped up their nationwide organizing, the polls shifted and he captured Ahn's initial lead.
For fear of splitting the liberal-left vote and subsequently allowing the conservatives another five years in office, Ahn finally withdrew. Though he backs Moon and asked his supporters to do the same, Ahn claimed, "I will continue my own fight for the transition of the administration without any title."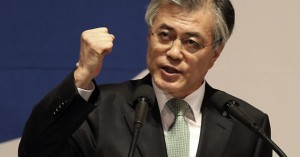 A Democratic United spokesman quoted Moon as saying, "We all owe a huge debt to Mr. Ahn. I feel both sorry and grateful to him."
Ahn, considered a centrist, has influence and a loyal following attributed to widespread dissatisfaction with the two major parties. He is a former medical doctor, the dean of the Graduate School of Convergence Science and Technology at Seoul National University, a software entrepreneur and a philanthropist. He is especially popular among young voters, and the pressure is now on for Moon to win over Ahn's supporters.
Yet some of those supporters might jump behind the Saenuri candidate Park Geun-hye, the first female to be nominated for president by a major South Korean party (she lost the 2007 primary to Lee Myung-bak, but presidents are limited to one five-year term).
Just as the economy dominated the American 2012 campaign, so it has in South Korea. Park, according to The Korea Herald, "pledges to reduce household debt, create jobs, reduce private education costs, cut college tuitions and fight crime. She also expressed determination on maintaining a strong national security."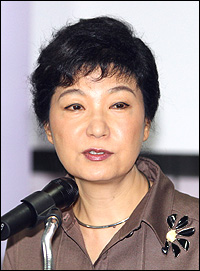 In a televised "solo debate" between Park and a panel of writers and university professors, she discussed her "Project for People's Happiness," an economic restructuring plan aimed at tackling $921.7 billion in household debt and making "a society where 70 percent of the people are included in the middle class."
Despite the Democratic United merger, Park still has a narrow lead in most recent polls. However, Park's family history could complicate her run.
Park is the daughter of former dictator Park Chung-hee, whose military regime took control of South Korea in 1960 until his assassination in 1979 by one of his own officials (her mother had been murdered in 1974). Older, conservative voters remember Chung-hee as the leader who ushered in economic growth and favorable diplomatic conditions with North Korea. At the same time, many Koreans, especially young progressives, associate him with corruption and human rights abuses.
Newly official opposition candidate Moon Jae-in was jailed by Chung-hee in 1975 for participating in protests against the dictator. Moon said about his opponent: "When I was living in poverty, she was living the life of a princess in the Blue House… When I was fighting against dictatorship, she was at the heart of it." His campaign slogan, People First, has defined his platform, which stresses job creation and enhanced welfare policy, including guaranteed rights to housing.
South Korea's "official 22-day campaign" period began on November 27 and though the independent candidate is out of the running, in a report for the Council on Foreign Relations, L. Gordon Flake pointed out an overall "middling" of South Korean politics (a change from what he said originally seemed like a competition between the U.S. and South Korea "to see which country's politics could be most polarized"). And both parties advocate for improved relations with North Korea.
Some attribute the political movement to the center partly to the popularity of Ahn's centrist views. And though Ahn is out of the running, the deciding factor for this election seems to lie in the hands of his supporters—many predict they will choose South Korea's next president.