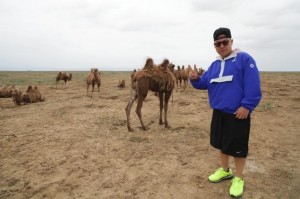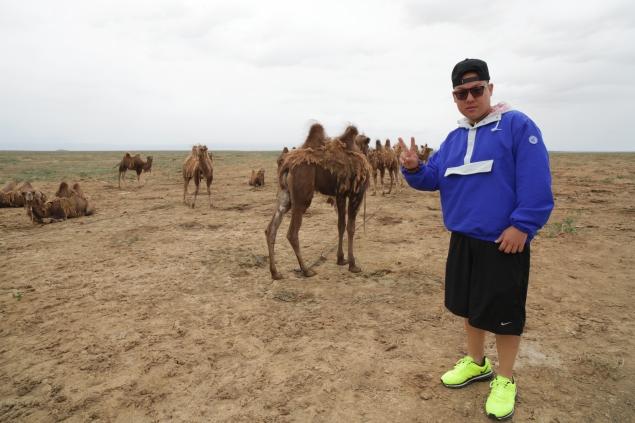 At the bottom of the escalator is an only slightly porcine, shortish Taiwanese-American dude in shorts greeting his friends and fans with hugs as they file into the theater for the premiere of season 2 of Fresh Off the Boat with Eddie Huang. I'm sure Eddie would give me, a random stranger, a strong hand-clap and one-armed bro hug if I went for it.
"What up, motherfuckers?" Eddie, who could pass for 19, greets the packed hipster twentysomething audience at SoHo's Angelika theater. His blue language continues onscreen, making him sound less macho, like a wannabe punk. Early in the first episode of the new season, while being led on a horse in Mongolia's Gobi Desert by an adolescent guide he teases, "You're scared of pussy aren't you?" Though Eddie's persona can be self-consciously brash, patience with his act eventually pays off. When he's not trying to do a street kid impression, Eddie is disarmingly modest, and the overall message to his urban young-adult audience becomes clear: Respect other cultures. This dovetails with his noble pursuit in this episode: Mongolian camel herders are just like us.
After getting his law degree, Eddie Huang, son of a successful eatery franchiser, became a chef and restaurateur, opening Baohaus on NYC's Lower East Side in late 2009. By 32, he was a New York Times best-selling author of his own memoir, Fresh Off the Boat (FOTB). Vice Media lured him in 2012 and gave Eddie the publicity of its brand and online content platform. A breakout 1990s zine, Vice, helped usher in the quasi-mainstream version of youth culture, elevating the appeal of the skateboard, hip-hop, graffiti nexus to commercial art. Now the most visible jewel of Vice's empire is a semi-respectable documentary style series on HBO that seeks out international danger (such as child suicide bombers in Afghanistan). Both Fresh Off the Boat and Vice TV emphasize relatability and skew to entertainment-attention-deficient urban/suburban millennials. Call it "check out this crazy shit" journalism.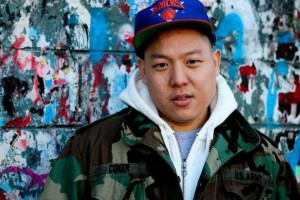 Why Mongolia? Eddie admits that the Gobi Desert was the chosen locale because it is one of the most sparsely populated places—not, say, because there was an important story to cover. Shot along an epic steppe and expanses of grassy, flat land, the show cuts between two set pieces, an interview with a camel herder in and around his transitional home, and coverage of a local festival, convened to celebrate the most important skills of the Genghis Khan era: wrestling, archery and horse-back riding. (Eddie refers to himself as Chin-ghis Khan, as any eighth grader might.) His questions for the camel herder, such as "What makes you happy?" and "What do you do for fun?", are simplistic and repetitive. When Eddie follows up with "What is life to you?" his interviewee finally balks, saying (in subtitles) the question is awkward and an answer requires some booze—cut to the making of camel milk vodka! What the scene lacks in journalism, it makes for in impromptu relatability: The Otherness of this man and his world are being reduced. The differences, arguably more interesting, are not the focus. Moments shorn of professionalism reinforce the charms of a Eddie's amateur curiosity. The scene in which he tries several times unsuccessfully to pronounce his main subject's name induces an automatic eye-roll, and yet the moment brims with authenticity as Eddie's desire to learn subtly seeps through.
What keeps the millennials tuned in? Not the threat of big mining interests buying up these camel-grazing lands, not privatization nor destruction in the name of development (all potential drama that is alluded to but not examined). Rather, it's Eddie attempt at Mongolian wrestling, which turns into a goofy slapboxing display, or Eddie forcing his production team to eat the camel cheese that he just gagged on.
While season 1 of Fresh Off the Boat peeked in on latter-day American counterculture—such as porn stars (message: these actresses are just regular people) and biker gang rabbit farmers (message: know where your dinner comes from)—with a foodie element as an afterthought, season 2 aims slightly higher brow and wider in scope. In the theater before the screening, Eddie says the second season of FOTB is an attempt at a grown-up version, complete with an overarching theme: cities in transition. He also admits to his fans that the series is still a work in progress.
In Mongolia episode 2 Eddie hangs out in the capital, Ulan Bator. At a popular outdoor meat market, huge slabs of flesh are delivered hourly and splayed in dusty 90 degree heat. The entire episode arcs around how he will eventually cook and eat a basking lamb carcass bought there and stored in the trunk of his car all day. When Eddie gets sick, it exemplifies the idea that people have internal organs adapted to handle this state of food. But it's a missed opportunity to add some poignant low-brow video: instead of showing a montage of himself vomiting or sweating on a toilet and still trying to spout one-liners—isn't this visceral digestive culture clash what the kids want to see?—he just tells the audience he got ill.
Eddie is concerned about the commercialization of Ulan Bator—the affects of the spread of capitalism since the early 1990s, when communism disintegrated in Mongolia (as it did in many places around the globe). Shooting for profound, he comes off forced. "Democracy is dangerous if there is a gap in income and education," the host says as if determined to squeeze it in somewhere. Since he's a bona fide chef playing a traveling food tester, he sells it better when describing how food is a universal constant that unites us all. And he does manage to speak with authority about East and Southeast Asia countries mimicking the pop trends in South Korea (especially the soap operas), which are indirectly influenced by the U.S. He pontificates over slo-mo video of teenage head bangers at a hard rock festival, which represents the positive aspects of Westernization, such as freedom of expression. (Uigee, Eddie's guide and translator, helped organize the concert with his metal band, Prophet.) Eddie's takeaway is that Westernization is okay because it's the choice of the Mongolian people, and not imposed by outsiders.
At the premiere, Eddie tells us he's had offers from cable companies to pick up FOTB (he was previously a Cooking Channel regular), but he is dedicated to making Internet content. It's a street-cred-enhancing decree, a non-sellout thing to say to reassure a millennial fan base. He is surely wise enough to know that TV can be a constraint, larding on the compromises in a formulaic attempt to nab the mainstream with fabricated drama—maybe not the best medium for off-the-cuff truth-seekers. On the other hand, maybe he's not ready to commit himself to the intensity of research and journalism that some television and documentary filmmaking require. He seems to want to move toward activism but knows it's not as much fun.
Still, this unstructured and strangely innocent style of globe-trotting can connect, reminding its audience that all cultures are weird, and all cultures are changing.
Like The New Context on Facebook or follow us on Twitter!