By Marina Gabriel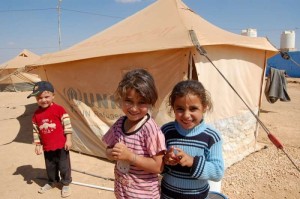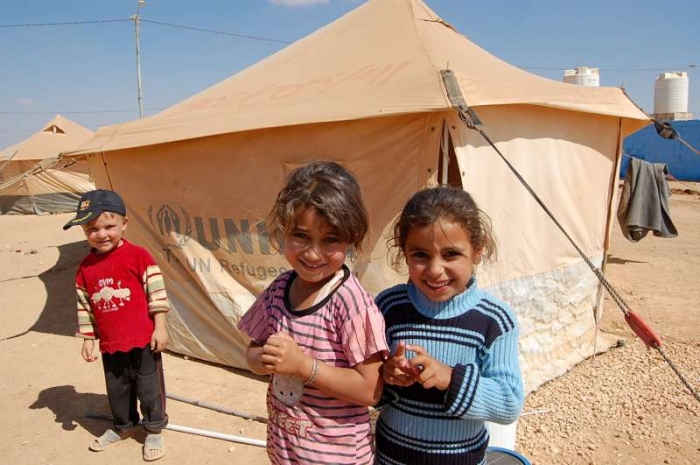 The New School recently hosted a Center for Public Scholarship event entitled "Syrian Higher Education in Crisis; The Road Forward." The panel presentation aimed to provide the international community with ways to support Syrian academics and students. Syrian University in Exile Scholars Amal Alachkar of the University of California, Irvine and Moaath Al-Rajab of The New School's Parsons School for Design, led the discussion.
Alachkar and Al-Rajab gave short introductions, telling their personal stories, before opening the floor to questions. The discussion that followed addressed critical issues facing the small nation.
The Education Crisis in Syria
Prior to the conflict, Syria was the model for education in the Middle East. According to the CIA World Factbook, the Syrian population had an 84.1 percent literacy rate in 2011. Among women, the literacy rate was 77.7 percent. Syrian President Bashar Al-Assad's regime encouraged women's participation in higher education; many more Syrian women than men were enrolled in Syrian universities. Furthermore, children ages 6-12 received free education, with most primary schools being run by the government.
Now, the condition of education in Syria is drastically and perhaps permanently altered.  A large percentage of the urban population, who once had access to high-quality education, has been displaced. Some moved into the countryside where education is inadequate or non-existent. According to UNICEF, the Syrian conflict has damaged or destroyed almost 4,000 schools. Almost two million students between the ages of 15 and 16 dropped out of school as a result of the ongoing conflict. Students lost anywhere from several months to several years of their education. The problem becomes compounded when students' education levels regress overtime without access to continued learning.
Since the start of the conflict, the Syrian government has been converting schools into military bases and training sites. Schools then become targets for rebel forces. Both sides of the conflict occupied abandoned schools, making all schools too dangerous to attend. There are multiple Human Rights Watch reports detailing government forces attacking schools while students were present.  Both the Syrian military and the rebel forces built checkpoints around schools where Syrian professors and students are often stopped on their way to and from campus. At these checkpoints, students and professors are often arrested and detained, some even killed. At checkpoints set up by rebel forces, male students are sometimes forcibly recruited to join the rebel's cause. Even some teachers will act as interrogators at schools by attempting to trap students in order to inform on their neighbors and families. These factors have forced many students and professors to stop attending classes out of fear.
The Education Crisis Among Refugees
Almost half of the total number of Syrian refugees is under the age of 18. In other words, more than half of the refugees should currently be enrolled in primary or secondary education. As of July 2013, the Za'atari Refugee Camp is the fourth largest city in Jordan, and the second largest refugee camp in the world, second only to Dadaab refugee camp in Kenya. According to UNICEF, there are 30,000 primary school aged children in Za'atari Refugee Camp and as of July 2013, only 12,000 of these children are currently attending classes. The percentages of students missing from camp-provided schools, set up by UNICEF, are shocking: 76 percent of girls and 80 percent of boys between the ages of 6 and 18 do not attend school, 66 percent of all children in Zaatari refugee camp have lost at least 3 months of school before arriving in Jordan and another 23 percent have lost more than a year. Only 7 percent of children who lost more than a year of school are currently enrolled in school. As a response to these low numbers, UNICEF has launched a "Back to School" Campaign that began in August, with the hope of bringing one million primary school age children back to school through outreach, enrollment drives, resource distribution.
However, the "Back to School" effort can't solve all of Syria's education problems. Schools set up for Syrian refugees only cover the primary and secondary grades. This leaves little to no options for students over the age of 18 who want to pursue higher education.  College age students, whose university education was interrupted as conflict broke out in Syria, struggle to attend universities in their present host-countries. A limited number of Syrian students living as refugees in Turkey have been allowed to attend Turkish universities without paying fees or tuition. Small training courses and English courses are often available, but nothing yet is available to the scale of education at all levels. Furthermore, foreign (non-Syrian) curriculums are being taught and there is a serious learning curve for many children coping with different teaching mechanisms.
Syrian Scholars in Exile
The Scholar Rescue Fund was founded to rescue academics and students escaping persecution from the Bolshevik's and Joseph Stalin. To date, the Scholar Rescue Fund has provided escape routes to 30 Syrian academics. Yet the number of Syrian Scholars imprisoned, displaced, or killed continues to rise. These Syrian scholars have faced the same violence as their students, though many were specifically targeted by the regime, accused of inciting protest and assisting their students who participated in these protests. As the presenting scholars pointed out, they cannot reach many of their colleagues or students in Syria, as the Internet has become almost inaccessible. As a result, few learn about the Scholar Rescue Fund. Many Syrian students have also become stranded in the United States and other countries, as they came for education and were never able to return home. The expressed hope of these rescued scholars and students is that they will one day return to their home country and assist in its rebuilding.
The Future of Syrian Education
Both Alachkar and Al-Rajab agreed that while the destroyed infrastructure of Syria – the roads, electricity, and sanitation—can be rebuilt, it is human capital that must be protected. Education is a fundamental human right, and as such, must be considered as basic a need as food and shelter and supported with adequate funding during crises. One idea that came out of this event was digitizing Syrian curriculums. This way, these materials can be widely accessible for Syrian students, if the proper technology is provided. Additionally, other host countries should follow Turkey's example and allow Syrian university students to attend their universities. Furthermore, Syrian students studying abroad, who are now unable to return to Syria, should have their visa allowances extended.
More efforts also need to be exerted to bring education at all levels into the refugee camps. More options should be explored and further funding provided to give students the proper learning environment and proper materials to learn. Presently, it appears that the best options for future funding would come from the United Nations and its member states, through the United Nations High Commissioner for Refugees (UNCHR) and UNICEF, who are currently working on educational planning and implementation. Smaller NGOs on the ground, especially those who find themselves working in tandem with UNICEF and the UNHCR, should be supported by available donors, including the previous mentioned resources, in order to provide more immediate assistance whenever possible. The Syrian in Exile scholars were adamant in their desire for the international community to do more in their efforts to help Syrian refugees, and to remember the importance that education holds for the future of Syria. Otherwise, when these young refugees finally return home, they will not have been given the chance to develop in a way that benefits both themselves and their countries.
Works Cited:
Central Intelligence Agency. Middle East: Syria. The World Factbook. https://www.cia.gov/library/publications/the-world-factbook/geos/sy.html
Human Rights Watch. "Safe no More". Published June 6 2013. http://www.hrw.org/reports/2013/06/05/safe-no-more
UNICEF. "Shattered Lives: Challenges and Priorities for Syrian Children and Women in Jordan". June 2013. http://www.unicef.org/infobycountry/files/Shattered_Lives_June10.pdf