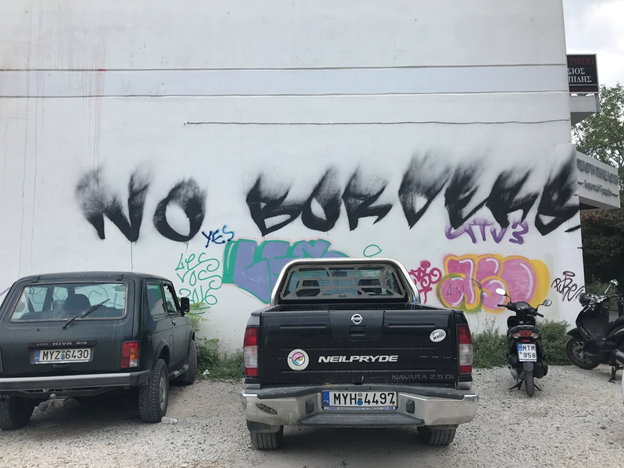 Last week most of our group ventured across the Aegean to Ayvalik, Turkey. A short trip, only an hour and a half port to port, Ayvalik is beautiful and seemingly removed from the refugee crisis. We were only there for a few days and in a small portion of the city, but the city center was a stark contrast from Mitilini.
Ayvalik felt more urgent and crowded, both people and space alike, it is a destination for tourists. Ayvalik's city center port is lined with ships whose salesmen occupy the sidewalks with their booths, calling the nearest person to advertise their day-long cruise. Street vendors serving roasted corn and fresh mussels set up near the water, while fresh fruit, vegetable, and bread vendors are closer to the marketplace. Turkish flags can be found on more than one building or home per street. Main roads have the occasional flag that falls from a second or third floor window and brushes the sidewalk. While waiting for a water taxi to leave port, the Turkish national anthem began to play in the city center and time essentially stopped. Everyone stood and sang. Traffic ceased and people got out of their cars, boats about to leave port delayed, conversations ended and restarted after the anthem's conclusion. The city walls bear little to no graffiti.
Mitilini is more of a working city. The port is scattered with local fishing boats, Frontex and Coast Guard ships, and one or two daily ferries. There is less of an energetic presence on this leisurely island. However, refugees, volunteers, academics, and locals hustle across the city going about their business. The refugee "crisis" is not invisible here. Organizations, community centers, advertisements in bars and cafes for fundraising, music events, and art exhibits all related or dedicated to refugees are around the city.
Networks of solidarity are viewable throughout Lesvos, perhaps most strikingly by the graffiti.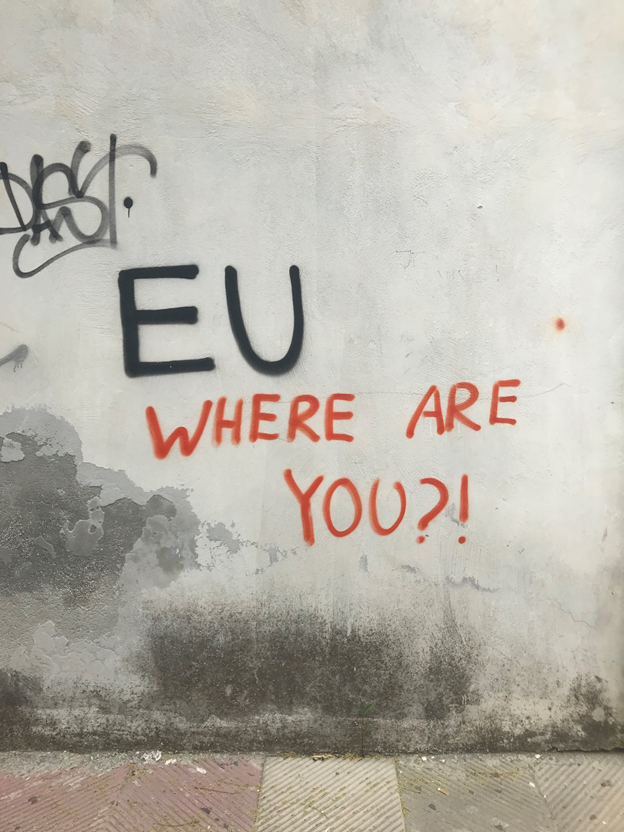 The walls and buildings are covered in messages of protest.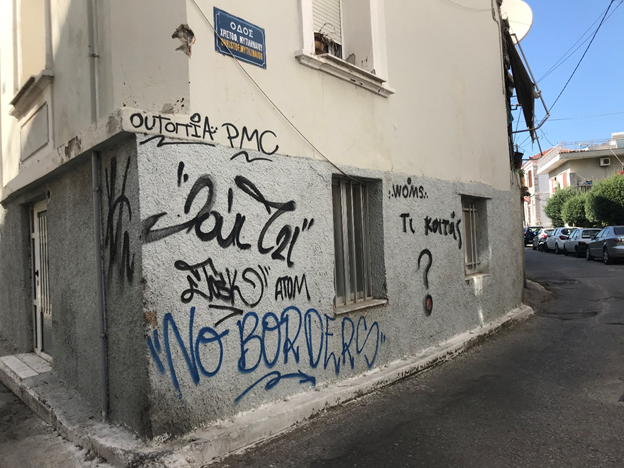 Over the course of our trip I have documented as much as I could, working to find in which areas of the island are the messages most concentrated, and what they say. Many are repeated, such as "No Borders", sometimes written as "Fight Borders", or "No Border, No Nation".  Some of the same messages vary in their grammar, perhaps indicating copycats. "No Borders" is painted on top of an abandoned building which can be seen on the road taken leaving the camps and moving into town.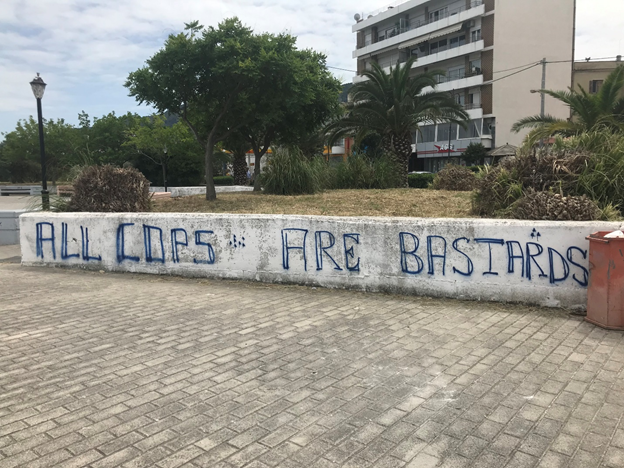 How cops and security actors treat refugees has been a tense point of conversation. The treatment of refugees as less than human is well documented. Security actors are not always at fault, but violence, inaction in the face of violence, and general disregard for refugees by cops prompt the above phrase, and its acronym, which is highly visible on the island.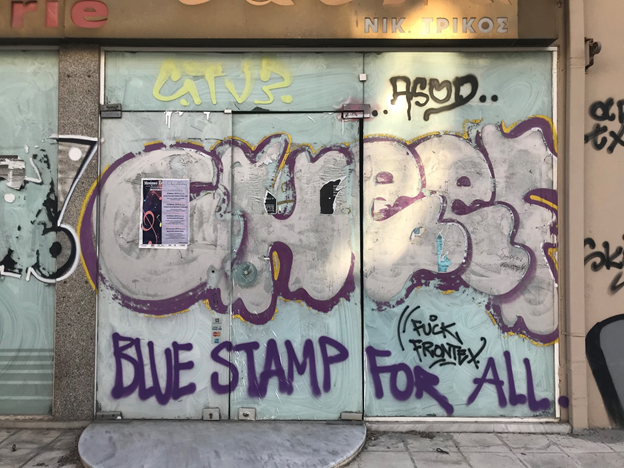 Graffiti expressing disdain for cops also targets Frontex, the European Border and Coast Guard Agency responsible for patrolling the waters. Often, migrants are ignored in the open sea, picked up by Turkish coast guards and brought back to Turkey, or mistreated. "Blue stamp for all" is referring to a stamp that migrants can receive on their identification cards. Once they arrive on the island they are given an ID card known by the German word for it, Ausweis. This word reminds many of WWII Nazi Europe's obsession with identifying those who they believed did not belong. Once a refugee is granted asylum, their Ausweis is printed with a blue stamp that crosses over three pages. This allows them to leave the island and hopefully begin their new life.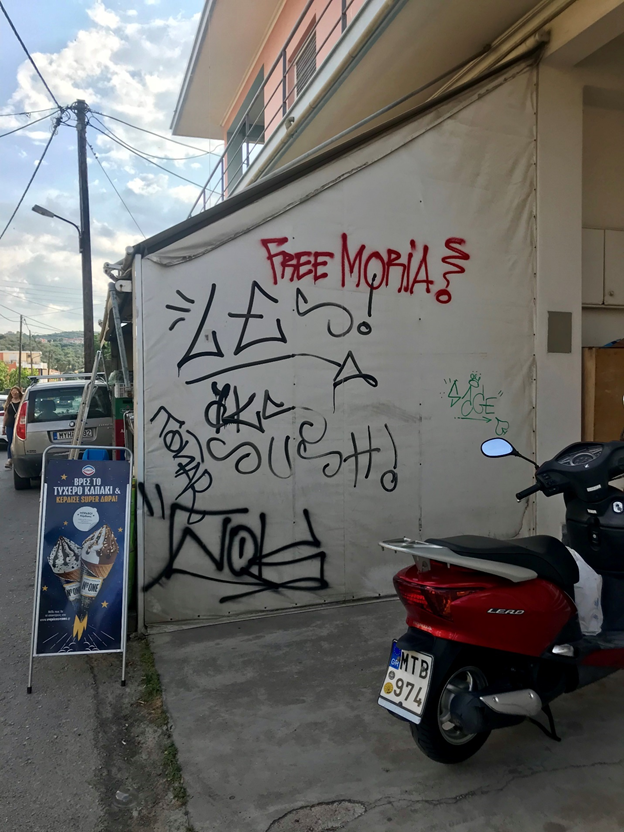 I've been told graffiti is extremely prominent in and around Moria and Kara Tepe with "No human is illegal" being a common phrase utilized. I've seen very little around town explicitly referring to Moria, but the above "Free Moria" and "Moria = Murder" from my previous post stand out amongst the rest.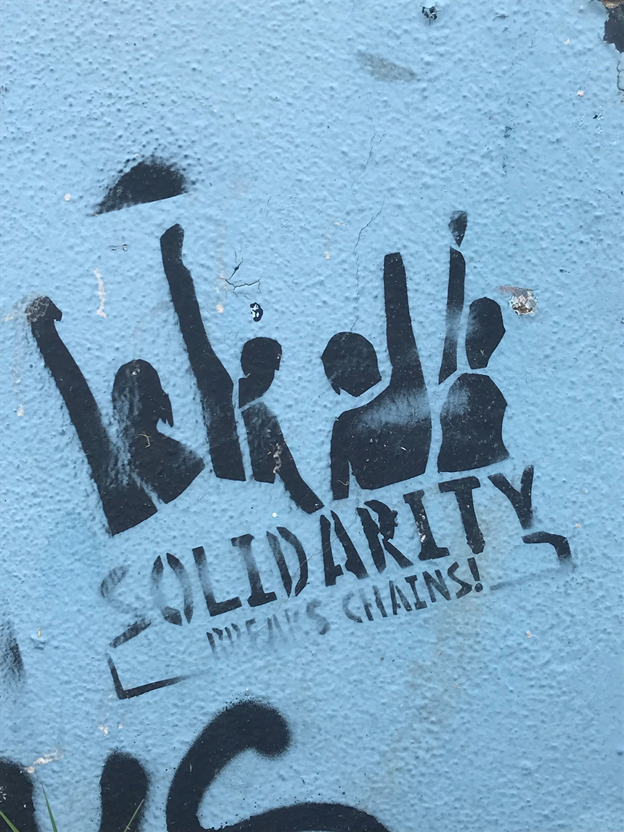 "Solidarity breaks chains" is stenciled on a building in Sappho Square. The main square in the city center pays tribute to the Greek poet Sappho who was born in Lesvos. It is also the site of many protests and graffiti.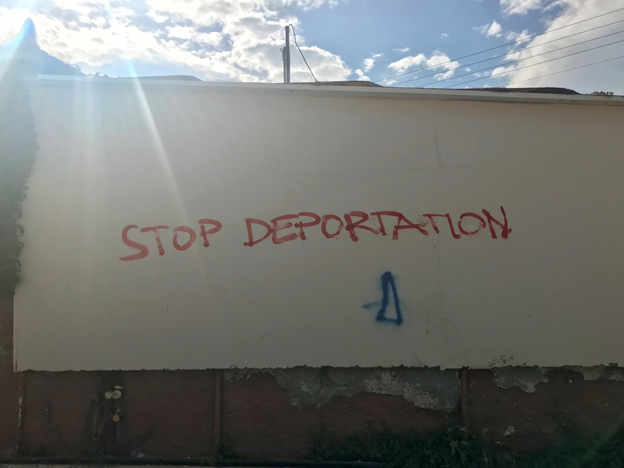 Deportation is always a potential reality for refugees awaiting their asylum interviews and cases.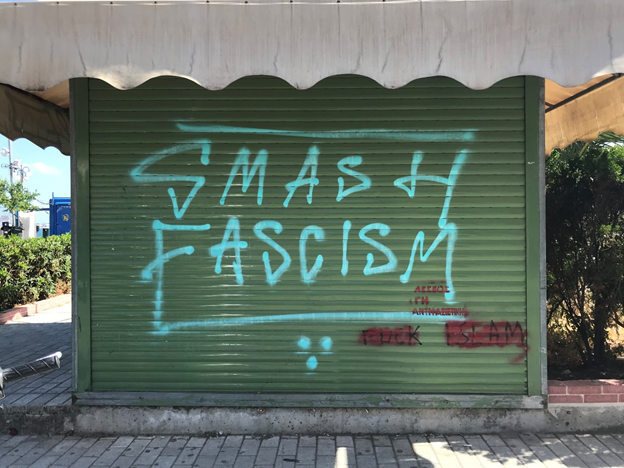 Every time I have seen graffiti that targets Islam, it has always been crossed out and above it replaced by a message condemning fascism.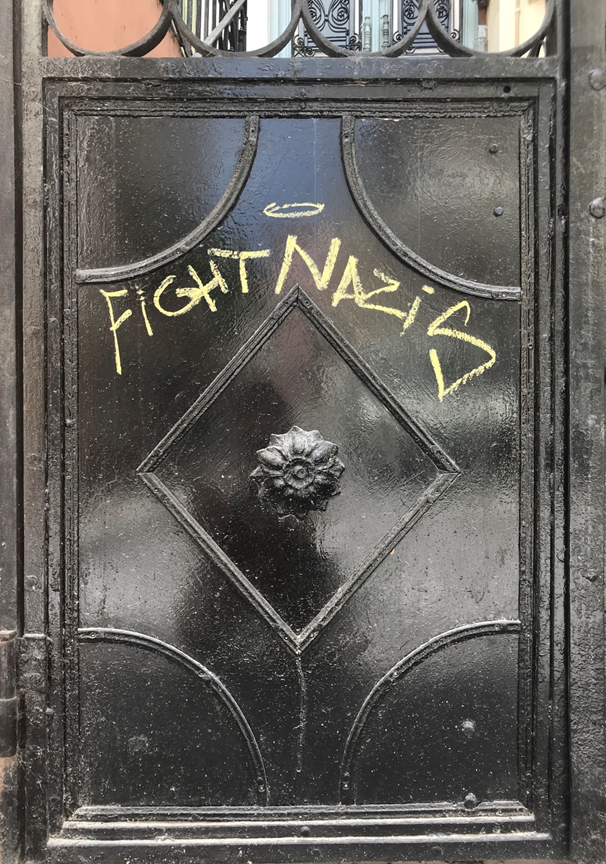 Nazis have grown in Greece over the past few years. Political parties like the Golden Dawn have seen a rising number of followers. Violence targeting refugees is extremely common on the island and in Greece. There is an art exhibit highlighting these stories at a community center in Mitilini. It can also be viewed online at: https://valtousx.gr/en/ .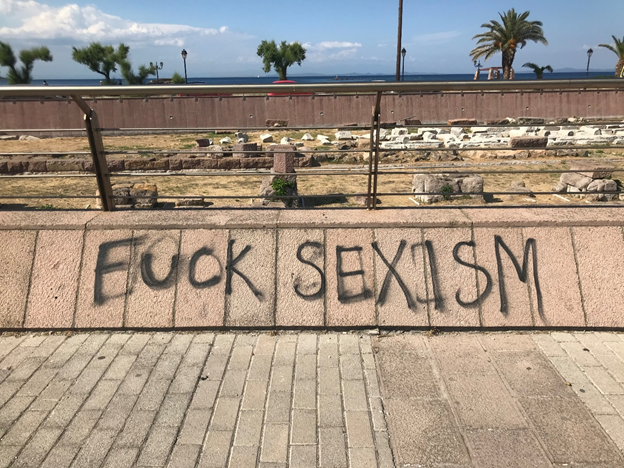 Graffiti about sexism and the patriarchy are less frequent, but still viewable, around Mitilini.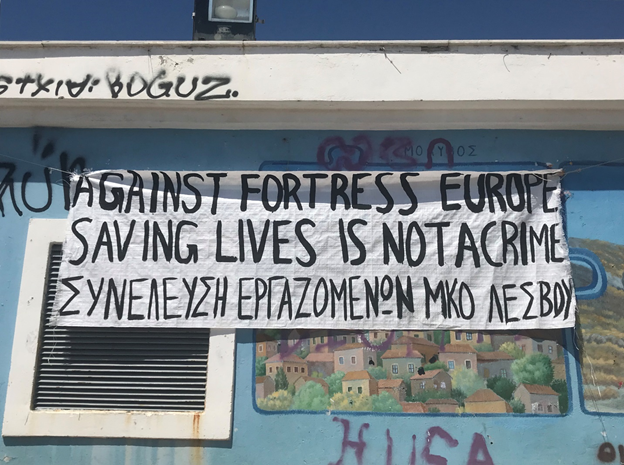 This banner was erected in Sappho Square just over a week ago. It was referring to a case in Italy where Carola Rackete, a German sea captain, was being held in prison for rescuing Libyan migrants and docking in Lampedusa without Salvini's authorization. With Salvini in power, he has done all he can to criminalize helping migrants in any way. Since the migration "crisis" began, organizations formed to assist in rescuing migrants from boats and rafts who would have otherwise drowned. Coast guard ships often call for these organizations to help them.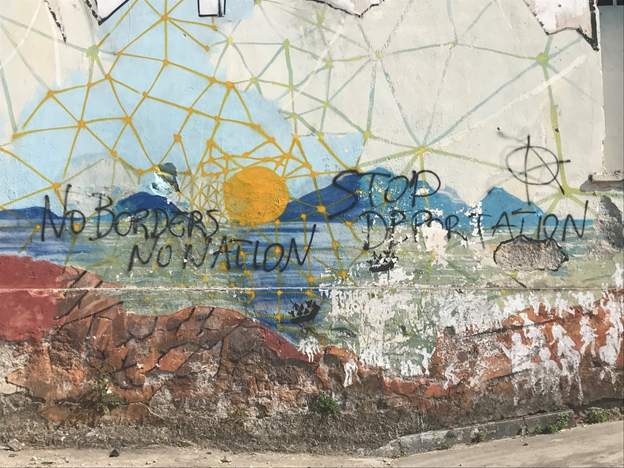 "No Borders, No Nation, Stop Deportation". A little weathered, this colorful graffiti is behind the port entrance and close to Lesvos' statue of liberty. This statue is not a replica of the famous statue in New York City harbor, but a version of it. It was created by a Greek sculptor and erected in 1930 to welcome the ships into the harbor. Today, it is a spot for many refugees, and local Greeks, to gather and swim. The local organized beach charges a fee for entry, but this small area is open to the public. To get to the statue, you need to pass the above graffiti. To some, it serves as a reminder that refugees are welcome, and the system is flawed and inhumane. While passing the statue, you can often see young men sitting below her feet, sometimes waving at passersby, hoping to be seen.