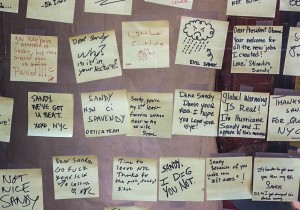 In lower Manhattan, there was no calm before the storm. The radio blared over the intercom, warning residents to prepare for "the worst"; people elbowed their way through the grocery isles, stocking up on the last of the bottled water, candles and matches; customers stood in lines snaking out the door and around the block, feeling the increasing tension in the air—a fear of something unknown yet about to unfold.
Uptown Refugee
by Rudy Shaffer
First Year GPIA
I grabbed my toothbrush, some clothes, my computer, and one of the last cabs heading uptown. Luckily I was able to stay with friends on the Upper West Side—and the storm missed us as it blew through. But I couldn't just pack up and head for home.
As a new New Yorker, I'd spent very little time above 34th Street, so my friends' apartment at 72nd and Broadway seemed like a foreign country. Within the week, the Upper West Side was mostly back to its normal routine—except that the population had doubled. Hundreds of downtowners had been displaced. Restless hurricane refugees were squished into studio apartments and overflowing out onto the streets.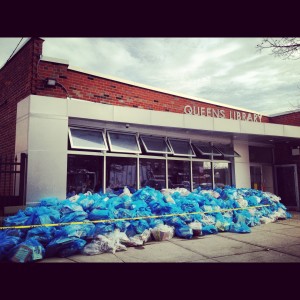 While Manhattanites live on the same island, we tend to stick close to home for goods and services: the market downstairs, the neighborhood coffee shop, the bodega on the corner. Navigating familiar territory is taking a shortcut through life—you know the quickest routes and shortest lines, and your barista fills your coffee order with a simple nod.
But when swaths of people are suddenly displaced to different neighborhoods, it is every refugee for himself. Walking along the Upper West Side, it was easy to pick out the refugees from the natives. Natives had dogs, knew their cashiers, and gathered on sidewalk corners to chat about how many of the less fortunate they had taken in during the storm—how much extra hair now clogged their shower drains and how many extra mouths they now had to feed.
Refugees roamed the streets, rumpled and disoriented, often glued to cellphones, their only connection to their old world: "No, I didn't even bring a change of clothes"; "The air mattress is in the middle of their living room"; "Mom, I don't know when I'll be able to move back." As word spread that most of Lower Manhattan was underwater, what was supposed to be just a pit stop turned into an extended stay. There are worse places to be camped out than the Upper West Side, but it's not as glamorous as it sounds. Every single person who was encroaching on friends and loved ones for shelter, electricity, water, food, and warmth longed to go home.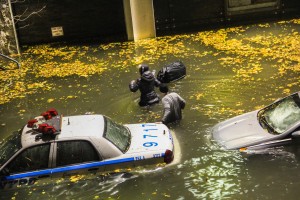 I felt disoriented and invisible to the daily hubbub that was taking place around me. At the grocery store, I didn't realize that I was in the ten-items-or-less line as the cashier muttered something about too many groceries—I was busy worrying about what I was bringing back for my hosts. How could I replenish their tiny fridge without invading the shelves? I wanted to ask the grocer at Fairway where the stairs were, or if we could take our baskets and carts with groceries outside to peruse the produce before we make a final purchase? Two weeks went by and I never asked.
I felt like I needed to be thankful and to enjoy my time in a new part of town, but I couldn't muster the energy or will power to morph into a tourist. I felt guilty for imposing. I felt detached from reality, and craved normalcy and my old routine.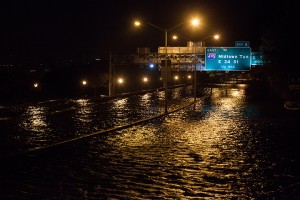 As I lay on my air mattress at night, I couldn't stop thinking: How long will this last? When will the lights come back on downtown? When will the trains start moving again? If I don't stay here, where could I go? If I have to go somewhere else, how will I get there? How can I possibly repay my hosts for their hospitality? When will I get to move back into my apartment again? Is my apartment even okay? Do I even want to move back to my apartment? Do I even want to move back downtown? If I don't move back downtown, where will I go?
Refugees around the world ask these kinds of questions every day. They live with fundamental uncertainty and lack a starting place to anchor a daily chain of decisions. Being displaced for two weeks felt like forever, but some refugees have been displaced for generations. While I would soon be able to return to my downtown home, many refugees never see their homes again. While I had the comfort of my friends and family just a phone call away, many refugees sever ties forever as they are forced scatter to the four winds.
I didn't lose everything that I left behind, and I don't have to rebuild or relocate. My flight was across town, not across a border or a continent or an ocean and into a strange land.
I did not experience the anxiety and suffering of the world's refugees. But Hurricane Sandy left me with a snapshot of what it is like to be stranded by powers beyond my control, and empathy for anyone anywhere who has to grab a toothbrush and run into the unknown.
[portfolio_slideshow id=334]